Red Lions' Adeogun stays focused for long haul after dumping Chiefs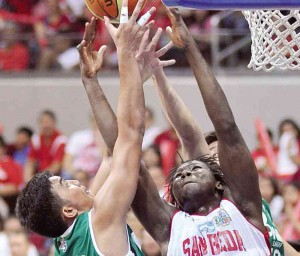 MANILA, Philippines – He was either soaring high to catch lob passes, or taking it strong to the hoop. In the end, Ola Adeogun had monster statistics and a bounce-back win to go along with it.
But for the Nigerian center, who had a subpar performance in their first two games, his 18 points, 15 rebounds and five blocks against the Chiefs was now a thing of the past.
While it was a relief to get back on winning track after San Beda's stunning defeat to Lyceum, Adeogun's focus is for the long haul.
"For me, this was just one game, we still have a long season to go. I just try to focus, but this game is past tense now," Adeogun said after the Red Lions' 67-54 win over Arellano last Thursday.
During the team's long break, Adeogun worked harder to bring back his fierce form. He even stayed off the social networking site Twitter.
"Ola knows his game is off. And I really appreciate what Ola is doing. He always comes out of practice every game early and work on his game and that showed today," said head coach Boyet Fernandez.
Adeogun, though, is just happy that the Red Lions are starting to resemble that team which was the NCAA's best for the last three years.
"I feel good. But I'm just happy for the team that we're playing the way we used to play. We're very energetic and we're playing good defense," Adeogun also said.
The Red Lions outrebounded the Chiefs, their tormentor in the pre-season league, 54-33. No one from Arellano even pulled down half of Adeogun's total rebounds.
But the Red Lions' echoed what Adeogun had said that as convincing as the victory was, it was just one game and tougher opponents awaited them.
"As what I've said, this is a tough season, and we'll take it one day at a time," said Fernandez.
Subscribe to INQUIRER PLUS to get access to The Philippine Daily Inquirer & other 70+ titles, share up to 5 gadgets, listen to the news, download as early as 4am & share articles on social media. Call 896 6000.