FIBA Asia: Gilas Pilipinas defeats Hong Kong to clinch top spot in group E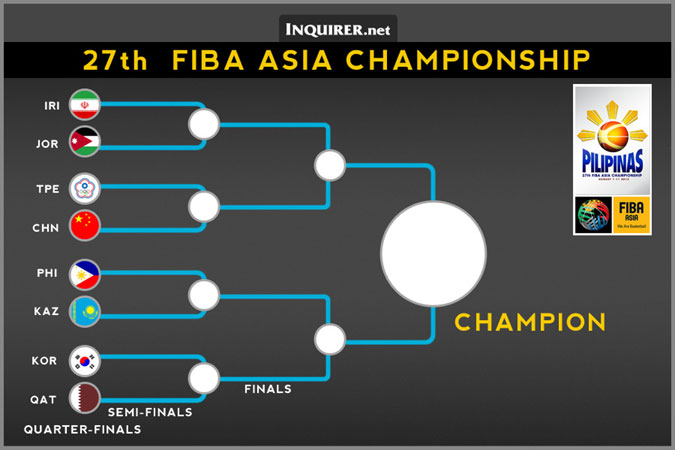 MANILA, Philippines — Philippines bucked an upset-minded Hong Kong, 67-55, to officially clinch top spot in group E Wednesday in the 27th FIBA Asia men's championships at the Mall of Asia Arena.
Earlier, Qatar defeated Chinese Taipei, 71-68, in the other group E action to pave way for Smart Gilas Pilipinas' rise to number one.
But the Filipinos needed time to set that in stone — posting its double-digit advantage for the first time with only 1:45 left on the clock to shake off the undaunted Hong Kong for good.
"They came out and pushed us and really challenged us to compete. They outhustled us for three and half quarters. We played poorly," said Gabe Norwood who had 11 points and 10 boards for the Philippines.
It was expected by many to be a breeze for the host Philippines against a Hong Kong team which remains in search for their first win of the tournament.
But it was Gilas Pilipinas who played catch up in the first half, only getting the taste of the lead with 5:48 in the third quarter on a bucket by Jeff Chan.
And they barely held on to that edge, no thanks to the Filipinos' lousy three point shooting, going 5-of-24, and rebounding, lagging behind, 36-45.
"We started very flat. We didn't want to play Marcus [Douthit] that many minutes, but our players weren't ready tonight," said head coach Chot Reyes.
Douthit, who is nursing a sore leg, was on the floor for 31 minutes because the Filipinos' other bigs didn't rise up to the challenge.
The naturalized center still paced the Philippines with 13 points and eight rebounds.
The high-leaping Japeth Aguilar rode the bench for most of the game because "he was playing lousy," said Reyes.
But buoyed by Norwood's relentlessness, scoring off a spin move then swiping the ball off the hands of Ki Lee for a bucket plus the freebie, Philippines got its separation down the stretch.
Smart Gilas Pilipinas arranged a meeting with group F's fourth placer Kazakhstan in the knockout quarterfinals which starts on Friday at the same venue.
Subscribe to INQUIRER PLUS to get access to The Philippine Daily Inquirer & other 70+ titles, share up to 5 gadgets, listen to the news, download as early as 4am & share articles on social media. Call 896 6000.