Cecil Mamiit happy to part ways with Maria Sharapova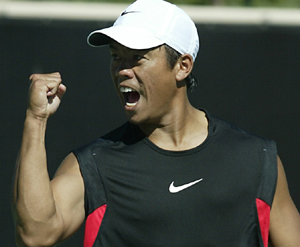 MANILA—Cecil Mamiit is no longer part of Team Sharapova.
The 35-year-old Philippine tennis star Wednesday announced that he has ceased to be a member of Maria Sharapova's team as hitting partner but said he's happy to have helped the Russian grand slam champion regain top form.
"Things didn't work out for Maria," said Mamiit in a Facebook message. "It was a great experience helping her get back to the top 10."
He didn't offer any reason for leaving the Sharapova camp, where he played a vital part during her tour campaign, including the Australian and French Opens, early this year.
There were reports that Sharapova wanted Mamiit's services full time, which he could not commit because of his duties with Team Philippines during Davis Cup ties and other international meets.
Mamiit's last tour of duty for Sharapova was in the French Open where she reached the semifinals—she lost to eventual champ Li Na of China, 6-4, 7-5—and rose to world No. 6, 120 rungs higher than in May 2008 when she injured her shoulder.
Subscribe to INQUIRER PLUS to get access to The Philippine Daily Inquirer & other 70+ titles, share up to 5 gadgets, listen to the news, download as early as 4am & share articles on social media. Call 896 6000.