Finals MVP Leonard, Lowry to visit PH, face Gilas
MANILA, Philippines — More NBA stars are to fly in for the "Gilas Last Home Stand" set on July 22-23 at the Smart Araneta Coliseum, as announced by business tycoon Manny V. Pangilinan Tuesday morning.
Newly-minted Finals MVP Kawhi Leonard of the San Antonio Spurs and Toronto Raptors' chief playmaker Kyle Lowry lead the second batch of basketball stars brought in to give Gilas Pilipinas a tough tuneup before the 2014 Fiba World Cup in Spain.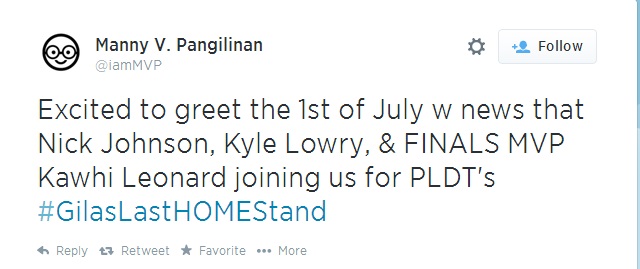 "Excited to greet the 1st of July [with] news that Nick Johnson, Kyle Lowry, & FINALS MVP Kawhi Leonard joining us for PLDT's #GilasLastHOMEStand," Pangilinan posted on his Twitter account.
The 23-year-old Leonard, versatile guard Lowry and Houston Rockets reserve Nick Johnson will join Los Angeles Clippers' Blake Griffin, Portland Trailblazers' Damian Lillard, Brooklyn Nets' Paul Pierce and Raptors' DeMar DeRozan in one team coached by former pro John Lucas.
Leonard led the well-oiled Spurs to the championship recently that ended the Miami Heat's two-year reign while Lowry, along with DeRozan, steered the Raptors into the second round of the playoffs.
RELATED STORIES
Gilas to face NBA stars as part of Fiba World Cup buildup
Spurs' Leonard wins NBA Finals MVP
Subscribe to INQUIRER PLUS to get access to The Philippine Daily Inquirer & other 70+ titles, share up to 5 gadgets, listen to the news, download as early as 4am & share articles on social media. Call 896 6000.