NBA stars vs PBA, Smart Gilas cagers: a dream match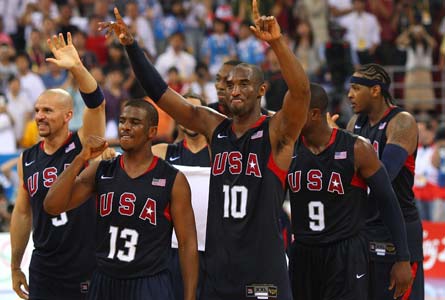 MANILA—If the Filipino can't play in the NBA, then might as well bring the NBA to the Filipino.
For a handful of the country's top basketball players, professional or amateur, this could be very well the game of their lives as they take on an NBA selection led by two-time MVP and five-time champion Kobe Bryant of the Los Angeles Lakers and "Redeem Team" teammate Chris Paul of the New Orleans Hornets on July 23 and 24.
In fact, some people even went as far as using their Twitter accounts to make a case for themselves.
"I need to play in this game. How how how?" asked Petron's Alex Cabagnot on his Twitter account (@cabaggie_5).
And who could blame him? But for a perfect mix of circumstance and opportunity—actually, lockout sums it all up—such a scenario wouldn't have been possible before.
"You're not going here to watch a clinic or retired players.You're going to watch real active NBA players," said Talk N Text head coach Reyes, who is one of the men behind the negotiations and the executive director of the MVP Sports Foundation.
"We don't want to bring them here and not do anything. We want them to play," Reyes added.
And that's not even counting the fact that organizers are hoping to add two more players—some say these could be Oklahoma City superstar and Fiba world championship MVP Kevin Durant and Chicago Bulls hotshot and reigning NBA MVP Derrick Rose—to the NBA roster that will play charity matches against a PBA selection and the Smart Gilas national team.
Who are the lucky fellows?
For the PBA all-stars, they are: BMeg's James Yap and Marc Pingris, Barangay Ginebra's Mark Caguiao and JC Intal, Petron Blaze's Rabeh Al Hussaini, Alex Cabagnot and Arwind Santos, Talk N' Text's Ryan Reyes, Jason Castro and Larry Fonacier, Alaska's Sonny Thoss and LA Tenorio, Meralco's Sol Mercado, Powerade's Gary David, Rain or Shine's Gabe Norwood and Air21's Danny Seigle.
Cabagnot's plea was not in vain, after all.
According to PBA Commissioner Chito Salud, the 16-man line up, with at least on representative from each team, was based on "those who are performing well, and those who are popular because of their performance."
For Smart Gilas, it's the core of the national squad plus the pros who are being recruited to bolster the squad for the Olympic qualifier this September: Mark Barroca, JVee Casio, Dylan Ababou, Japeth Aguilar, Mac Baracael, Jason Ballesteros, Chris Lutz,  Marcio Lassiter, Chris Tiu, the naturalized player Marcus Douthit, and PBA reinforcements Kelly Williams, Jimmy Alapag, Asi Taulava, Dondon Hontiveros and Ranidel De Ocampo.
In a country thirsting to see one of its own finally playing in the NBA, it would be nothing less of a treat to watch its top stars playing against Bryant, Paul, former rookie-of-year Tyreke Evans of the Sacramento Kings, DeAndre Jordan of the LA Clippers, James Harden of the Oklahoma City Thunder and 2011 NBA Draft second overall pick of the Minnesota Timberwolves.
The five-time NBA champion Bryant, who was in Manila just last Wednesday as a part of his five-city Asian tour, will also make his first–and only–stint as a playing coach for the USA selection after surprising Filipino fans with an out-of-the-script eight minute stint in an FEU Tamaraws jersey.
The NBA All-Stars will take on the PBA selection on July 23 at 7 p.m. at the Araneta Coliseum and against Smart Gilas Pilipinas on July 24 at 1 p.m at the same venue.
The Nationals, who will be competing in the Fiba Asia Championship this September, scrapped their scheduled European training in lieu of the event dubbed as the Utimate All-Star Weekend.
"We we made a point to get strong, young players (in the NBA). They will give Gilas a good workout," said Reyes.
"It's going to be tough, but Gilas will play all out. We're all hoping that we can match up well and hopefully we can keep it close if not win," said Smart Gilas assistant team manager Butch Antonio.
Ticketnet has started selling tickets this afternoon with the patron seats pegged at P5500, Lower Box at P3800, Upper A at P1500, Upper B at P800 and General Admission at P350 and are sold separately for the two games.
Subscribe to INQUIRER PLUS to get access to The Philippine Daily Inquirer & other 70+ titles, share up to 5 gadgets, listen to the news, download as early as 4am & share articles on social media. Call 896 6000.