Roach denies saying Marquez used drugs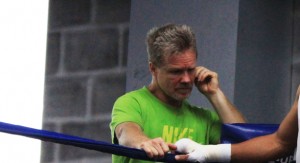 MANILA, Philippines — Trainer Freddie Roach denies saying that Juan Manuel Marquez, who defeated Manny Pacquiao via KO earlier this month, used performance enhancing drugs to bulk up.
In an interview with Boxingscene.com, Roach cleared that all he ever said about the Mexican fighter was "he didn't look natural."
"I never said he used anything. I said he didn't look natural. I don't know anything about [Marquez using banned substances]. I'm not going to accuse anyone [of doing something illegal]," said Roach.
Prior to December 8's fight, Roach commented on Marquez' muscular body, telling USA Today, "If [his body] is natural, I will kiss his ass."
The Mexican boxer trained with controversial strength and conditioning coach Angel "Memo" Hernandez who has been allegedly linked to PEDs use in the past.
But Marquez, along with Pacquiao, had been cleared negative of any form of drugs by the Nevada Athletic Commission, after his convincing victory — a first in four times — over the Filipino legend.
In fact, Roach is calling spade a spade: all it took was Marquez' sly punch.
"He won the fight. Manny got hit with a punch he never saw coming. [Pacquiao] looked good in the fight but he made a mistake and got caught," Roach said.
Hernandez is considering filing a defamation suit against the legendary boxing trainer.
Subscribe to INQUIRER PLUS to get access to The Philippine Daily Inquirer & other 70+ titles, share up to 5 gadgets, listen to the news, download as early as 4am & share articles on social media. Call 896 6000.