NU's Ray Parks seizes UAAP MVP plum; Kiefer Ravena is top rookie fave
MANILA, Philippines—The rookie who created quite a stir even before the season opened proved he's up to all the hype.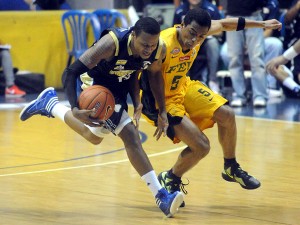 National University's Ray Parks topped the statistical race at the end of the elimination round to virtually clinch the Most Valuable Player award in the UAAP men's basketball tournament.
Parks, the son of seven-time PBA Best Import Bobby Parks, averaged a league-best 20 points on top of 6.5 rebounds, 2.9 assists, 1.1 steals and 1.1 blocks.
Finishing in the top 10 of every statistical department, Parks is also set to be the first player to bag the top individual plum despite failing to lead his team to the Final Four.
The league MVP, solely based on statistical points, will be awarded during the championship round.
"It's a privilege, definitely," said Parks, a 6-foot-3 southpaw guard.
"During the season, I just concentrated on getting better. But I'd rather win a championship any day than an MVP [because] an MVP is about one man. A championship speaks about the whole team."
Parks, whose mother Marifer Barbosa is a Filipino, returned to the country with his American father last year after spending only three years in the United States. His eligibility was questioned, but he got the go-signal to play a week before the league opening.
"He has gone through a lot this season," said NU coach Eric Altamirano.
"What I like about him is his leadership. He doesn't just provide scoring for us, but there are a lot of intangibles that he gives us. He dives for loose balls, he defends the best players. He's very disciplined, he's very religious in watching and studying the games. He's really a student of the game."
Ateneo's own freshman standout, Kiefer Ravena, is also a cinch for the Rookie of the Year award after averaging 13.1 points, 4.2 rebounds, 3.1 assists and 1.5 steals.
Parks isn't eligible for the rookie plum since only players fresh off high school are qualified.
Other top performers are Ateneo's Greg Slaughter (13.3 ppg, 9.4 rpg, 1.4 apg and 1.9 bpg), Adamson's Alex Nuyles, (15.2 ppg, 5.5 rpg, 3.3 apg) and Far Eastern University's Aldrech Ramos (11.8 ppg, 9.4 rpg, 1.5 apg).
Also in contention for the other special awards are last year's MVP RR Garcia of FEU (16.4 ppg, 3.8 rpg, 2.7 apg), Ateneo's Nico Salva (12.8 ppg, 6 rpg, 1.8 apg) and University of Santo Tomas' Jeric Fortuna (13.6 ppg, 4 rpg, 3.2 apg, 1.3 spg).