Blog » Champ who nearly took his own life because of bullies now looks forward to bigger foes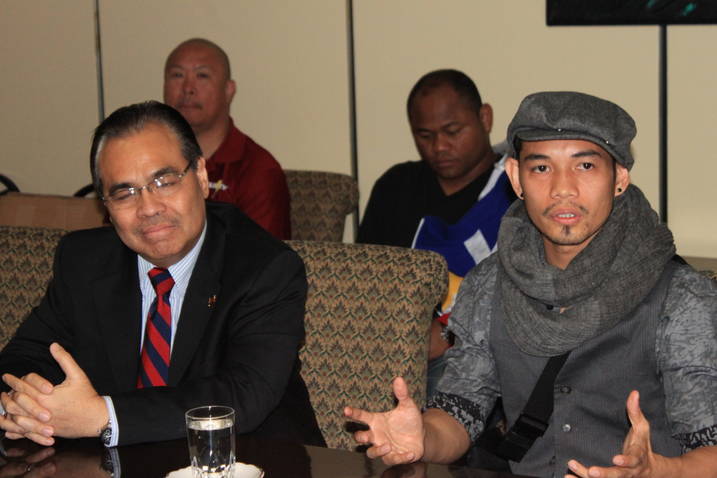 NEW YORK CITY – For somebody criticized for not picking up someone his own size, it's shocking to know that Nonito Donaire Jr. was bullied as a kid, to the point of near-suicide.
He dropped that bombshell during a courtesy call to consul general Mario de Leon Jr., at the Philippine consulate here Wednesday.
"I wasn't blessed physically. I had asthma and was always sickly," he told the group of NY-based journalists and consul officials. "I was that frail little kid who got bullied in school and would go home crying."
While waiting for the bus that would take us back to the hotel, he intimated that he even contemplated taking his own life because of that.
"Yeah, even when I got here (United States). I felt so worthless and I can't find reason to live," he said. "I would definitely champion that cause (anti-bullying) because I feel for these kids who have to endure these things. Kids can be so cruel because they don't realize that they're hurting a fellow kid.
"They thought it was a way to feel good about themselves, but that's wrong. It's so sad young people think of taking their own lives because of bullying. I understand them because I've been through it."
Count that as another advocacy for Donaire, who will wear a pink-tipped glove to his Oct. 22 title fight against Omar Narvaez in support of breast cancer awareness.
But going back, that painful episode in his life pushed him to take up boxing at 11. However, he swore he never tried to get back at guys who made his life miserable in school.
Now that he's been picked on for beating up smaller foes atop the ring, Donaire is eager to show he could be just as mean against guys his own size.
Probably not by choice, but a lot of the guys he has knocked out cold stand a few inches shorter than him. Montiel, 5-foot-4, sent to dreamland in the second round; Sidorenko, 5-foot-4, taken out in the fourth; Marquez, five-foot-2, stopped in the 8th; and Vargas, five-foot-6, felled in the fourth.
"You see he's a big bantamweight," said Top Rank publicist Lee Samuels, explaining how Donaire got shorter guys for opponents.
Fighting Omar Narvaez, who is just 5-foot-3, doesn't help either. Yes, the Argentinian is undefeated but he will be trying his luck at 118lbs which poses far more danger for him than when he reuled for seven years the 114-lbs division.
Which is why he is now being line up at 122lbs and 126 lbs.
Experts are dreaming up a showdown against Jorge Arce, the WBO super bantam titlist. A great champion no doubt, but he's only 5-foot-4. WBC belt owner Toshiaki Nishioka could be a better match-up as the 33-year-old southpaw stands just half an inch shorter at 5-foot-6 ½.
Yet, I personally believe that to make Donaire's entry to the elite class more compelling, to prove he's more than a schoolyard bully on the ring, he should fight "that Cuban."
I'm referring to the 2004 Olympic champion and former IBF and WBA featherweight champion Yuriorkis Gamboa. He's about the same size (5-foot-6 ½) and age (29). He is also aching to get back his pride after losing the title to Jorge Solis last year for skipping the mandatory re-weighing procedure.
Dubbed as "El Ciclon de Guantanamo," Gamboa is 21-0-0 with 16 knockouts under his belt. Just like Donaire, Gamboa is known for his power punches, which Solis himself compared to that of Manny Pacquiao.
Puerto Rican KO artist Juan Manuel Lopez (31-1-0 with 29 knockouts), or Chris John (45-0-2 with 22 stoppages) of Indonesia can also be a viable match-up.
But from where I am sitting, and to prove Donaire's not just bullying smaller, overmatched foes, Gamboa should be the next target.
Subscribe to INQUIRER PLUS to get access to The Philippine Daily Inquirer & other 70+ titles, share up to 5 gadgets, listen to the news, download as early as 4am & share articles on social media. Call 896 6000.