Breaking ice
Foreign mentors are whipping prodigious skaters into top form—thanks to Michael Martinez's unprecedented feat
There's occasional traffic, but for them, it's the good kind. Inside the ice rink, it gets trickier for the country's top figure skaters to glide past warm bodies. There have been more kids than usual, but they hardly mind.
Ever since Michael Martinez sailed into the nation's hearts—as the kid who grew up with no snow yet elegantly skated his way to the Olympics— there has been a spike in interest in the sport.
"That's one thing really good— what happened with Michael—there are more skaters," says 14-year-old Philippine team standout Sofia Guidote. "A lot wanted to try skating. And before, when you say 'I'm a figure skater,' some say 'What's that?' Now they know because of Michael."
Lanky yet graceful, Martinez made history in the 2014 Sochi Winter Olympics as the first Southeast Asian to compete in the sport's biggest stage. He was also the youngest then at 17.
"Now there are lots of kids who want to train," adds fellow national team member Mariel Mendoza. "I'm really positive skating here will be known."
Two years since Martinez's feat, the Philippine Skating Union intends to sustain the growth. But the plan isn't just to pin the country's hopes on Martinez. It's to whip more skaters like him into top form. Just how? By tapping foreign mentors, particularly Russians who are known for their strict and rigorous coaching style.
Alexey Federov and Maria Safonova, both former Russian team skaters, laugh off insinuations they're heartless drillmasters. But clearly, discipline is paramount as they take over the Philippine team's training program.
"There has been a lot of changes, and a lot more to come," says Federov. "This sport is highly organized. It's a systematic sport."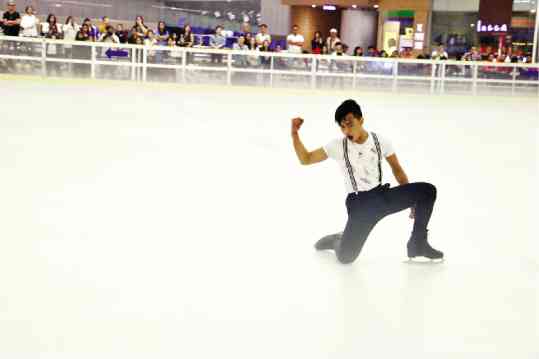 Jules Alpe, one of the country's few male skaters, feels ready to tread the same path as Martinez. Opting to devote all his time to skating, the 18-year-old stopped schooling to focus on his international campaign. "It's quite hard, but I'm trying my best," says Alpe. "I'm training hard so I can also get there (Olympics)."
Dropping school for sports may be frowned at here, admits Dale Feliciano, one of the locals in the national coaching staff.
"Our culture is totally different—school comes first," says Feliciano. "But in other countries, if you're into sports, you just do sports. Like all they do is skate. They don't go to school.
"If it's a long term goal, like the Worlds, you have to make sacrifices. It's a big thing to gamble if you stop studying or start home school."
As one of the sport's local stars, Guidote knows there's more to the glittering costumes, graceful moves and glowing smiles. "It's just really hard work, long training, discipline, and of course, you have to love what you're doing," says Guidote, who is home schooled. "If you don't love what you're doing, it will be hard to wake up every morning and train."
Although it's the glamour that usually attracts young girls, some learned to commit to the sport early like Guidote, and now, even the likes of nine-year-old Krystle Siy, eight-year-olds Amanda Sophie Hernandez and Hayden Balucating, and six-year-old Arielle Pascual.
These girls—with some saying they've only seen "snow in the freezer"—started skating between three and five years old after getting drawn to the skaters at SM rinks. All earned podium finishes in the recent National Figure Skating Championships.
"We're focusing on the small kids, the younger the better," says Feliciano. "Some of the contenders in the Olympics are quite young, 14 to 15 years old."
Gabby Panlilio, a national champion competing for more than half her young life, has also imbibed the competitiveness the sport demands.
"Someday I want to be in the Olympics, stand on the podium and make my country proud," says Panlilio, who is among the promising batch of 13-year-olds along with Aiko Marie Shibata, Skye Frances Patenia, Charmaine Skye Chua, Andreanne Jaye Ariones and Alexa Dominique Gonzaga.
"There are sacrifices, like I don't have time to be with my friends. I'm also home schooled."
But those are just little sacrifices for the sport they love. For the national pool members, they're bracing for tougher times with their new Russian coaches.
"Definitely there will be more Michael Martinezes," says Federov. "But it's a long-term development. It can't be developed in one, three, five months. It's years of work. But we're really impressed with our first visit, with how many hidden treasures the Philippines has."
And those skating treasures, they hope to unveil soon.