This time, Filipinos split over Pacquiao victory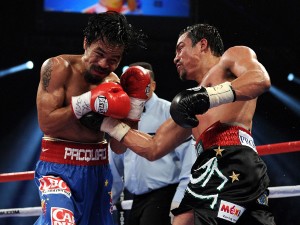 Unlike Manny Pacquiao's victories in the past, this one divided the nation.
Many boxing fans across the Philippines believed that Mexico's Juan Manuel Marquez won the fight. Others said it should have been declared a draw, while a few claimed Pacquiao won.
Far away from home, President Benigno Aquino III rejoiced at Pacquiao's victory, telling reporters covering his visit in Hawaii: "The Filipino nation is happy that our idol was successful in his fight."
Mr. Aquino said he had called Pacquiao, who "praised his opponent (and) said Marquez was a good fighter."
But clearly not everyone was happy.
"I have been a fan of Pacquiao ever since, but Marquez should have won this. If you judge it by points, he clearly had better and more hits," said Romy Borras, who watched the live satellite screening in a cinema at SM City Manila.
Borras said the results appeared to have been rigged. "I'm sure that opinion will be shared by audiences globally," he said.
A group of friends on the front row of the cinema walked out immediately after the 12th and last round, not bothering to wait for the results because they had assumed Pacquiao lost. The same scene was repeated in other parts of the country.
While the audience still jumped to their feet in jubilation and cheered over Pacquiao's victory when it was announced, a chuckling man leaving the theater told his companions: "Poor Marquez. Luto (It was rigged)! It should have been at least a draw!"
Borras' wife was overheard telling her friends that it was not a good fight. "Even [Pacquiao's wife] Jinkee seemed surprised at the results," she said.
"It was a sad and embarrassing win," Domingo de los Santos, a computer engineer, told Reuters after watching the 12-round bout live at a restaurant in Manila's business district.
"As a Filipino, I'm nevertheless happy for Pacquiao's win, but it was not so convincing. I expect Marquez to demand a rematch next year," he added.
In Marikina City, Gertrudes Posadas, 50, said she prayed hard before the decision was announced. "I was saying the rosary and was asking for a draw."
Central Luzon surprised
Central Luzon was not too happy about Pacquiao's victory either.
"I was surprised when they announced Pacquiao the winner," said Jose Gonzales, 63, a self-proclaimed Pacquiao fanatic in Mabalacat, Pampanga. "The fans who watched were certain Marquez beat him this time. I would have been gladder had the judges allowed Pacquiao to lose," he said.
Gonzales noted that Pacquiao did not even raise his fists after the last round, suggesting that he knew he lost.
Edmar Pangilinan, a village watchman, said many of the 2,000 people, who packed the Jose Songco Lapid gymnasium in Porac, Pampanga, left before the 11th round, thinking that Pacquiao had lost to Marquez.
In Zambales, John Gayacao said: "The judges were for Pacquiao but the crowd was for Marquez. Pacquiao's only victory in this match is the money he will take home."
Ten farmers, who watched the fight at a neighbor's house at the Science City of Muñoz in Nueva Ecija, said that "it would have been better had the fight ended in a draw."
In Baguio City, a mall on Abanao Street showed for free the live telecast of the fight on a newly installed giant video wall (5.7 x 6.4 meters), drawing people from the market out to the nearest pedestrian overpasses and building ledges.
Unlike the disappointed crowds in Central Luzon, however, the Abanao watchers kept their thoughts to themselves, booing only each time the satellite-fed telecast froze on screen.
Unpopular overseas
The rest of northern Luzon were divided about the fight.
Antonio Dy, an engineer working in Candon City, Ilocos Sur, said people who watched the fight were upset that Pacquiao's latest victory would make Filipinos unpopular overseas.
"The Filipinos won [symbiotically when Pacquiao won] but they were not happy. Many of those who watched were ready to hear the announcement that Marquez won," Joel Balolong said in Rosales, Pangasinan.
But Narcelo Ortigozo, a boxing aficionado in Dagupan City, said Pacquiao deserved to win. He said the champion rallied in the last three rounds of the fight, which, he noted, was enough for him to retain his crown.
Judge Igmedio Emilio Camposano of the Aroroy-Baleno Municipal Circuit Trial Court in Masbate believed it was Marquez who should have won, noting that Pacquiao was not his usual celebratory self even after he was declared winner.
In Santa Cruz, Marinduque, boxing fans of the sleepy town were not elated with Pacquiao's victory. "Marquez won more rounds than Manny. Pacquiao continuously missed his shots because Marquez was able to dodge effectively," said businessman Renato Lumawig.
The social network Facebook was flooded with messages expressing dissatisfaction with Pacquiao's victory.
Marvin Monteagudo, an IT educator in Naga City, believed the verdict should have been a draw. Others, like business process analyst Jefferson Ibo and user Teresa Aquino, wondered if there was a discrepancy in the scoring during the bout.
Drooped shoulders
In the Visayas, people were happy that Pacquiao retained his belt but many of his fans believed that Marquez won the fight.
At a bus terminal in Maasin City, at least 3,000 people, who watched the fight, screamed in jubilation when the referee announced that Pacquiao remained the undisputed champion. But they all went home with drooped shoulders as everyone felt that Marquez at the very least deserved a draw.
Their sentiments were felt by other boxing fans in Cebu, Iloilo, Negros Occidental and Capiz who watched the live telecast of the fight either at home, the movie houses, restaurants or hotels.
"Of course, I'm happy that Pacquiao won but I thought Marquez should have been declared the winner," said Vicente Toledo, one of 600 fans who watched the match in a restaurant in Iloilo City.
Tony Aldequer, founder of ALA Promotions, said the scores of the two judges were fair although he found the 116-112 score of the third judge  in favor of Pacquiao "too much."
In General Santos City, people at Lagao gymnasium were dismayed that their boxing idol failed to knock Marquez down.
"I waited until the 12th round, but Manny showed vulnerability in his fight. The result was not exciting," Edo Manindi said.
Spectators started heading home as early as the start of the 12th and final round.
Some boxing fans were also surprised by the majority decision win of Pacquiao. "Based on what I saw on the live telecast it was Marquez who was hitting Manny in most of the rounds," Jill Baldonade said in Tagum City.
In Cotabato City, Rey Trasmonteto, a government employee, said he was not convinced that Pacquiao won the fight. "In fact, we expected either a draw or a Marquez victory," veterinarian Robert Malcontento said.
In Iligan City, Roger Gonzales said that although he was a fan of Pacquiao, a Sarangani lawmaker, Marquez should have won the fight.
Parañaque Representative Roilo Golez, a former amateur boxer, said that to the trained eye, Pacquiao was the real winner of the fight.
"In pro boxing, aggressiveness scores points. Marquez was on the defensive, backpedaling all of the time, but admittedly scored good points counterpunching."
Aurora Representative Juan Edgardo Angara said the fight was a too close to call. "Just like the first and second fight, this one will be debated upon at meals, coffee shops, barber shops,
taxicabs ad infinitum," he said. Reports from Gil C. Cabacungan Jr., Norman Bordadora, Niña Calleja, Miko Morelos, Christine O. Avendaño and Jerome Aning in Manila; Jonas Soltes, Gerald Querubin, Delfin Mallari Jr., Shiena Barrameda, Juan Escandor, Rey Nasol and Madonna Virola, Inquirer Southern Luzon; Tonette Orejas, Armand Galang, Jun Malig, Robert Gonzaga, Anselmo Roque and Carmela Reyes-Estrope, Inquirer Central Luzon; Vincent Cabreza, Frank Cimatu, Gabriel Cardinoza and Yolanda Sotelo, Inquirer Northern Luzon; Nestor P. Burgos Jr., Carla P. Gomez, Jani Arnaiz, Jhunnex Napallacan and Felipe Celino, Inquirer Visayas; and Aquiles Zonio, Frinston L. Lim, Edwin Fernandez, Jeoffrey Maitem and Richel Umel, Inquirer Mindanao
Subscribe to INQUIRER PLUS to get access to The Philippine Daily Inquirer & other 70+ titles, share up to 5 gadgets, listen to the news, download as early as 4am & share articles on social media. Call 896 6000.