NCAA Season 93's Best 7: Week 13
With the collegiate season in full swing, INQUIRER lists the week's top seven performers in the ongoing NCAA Season 93 men's basketball tournament. From their game statistics to their overall impact in the outcomes, everything is weighed to come up with the best players from the week that was.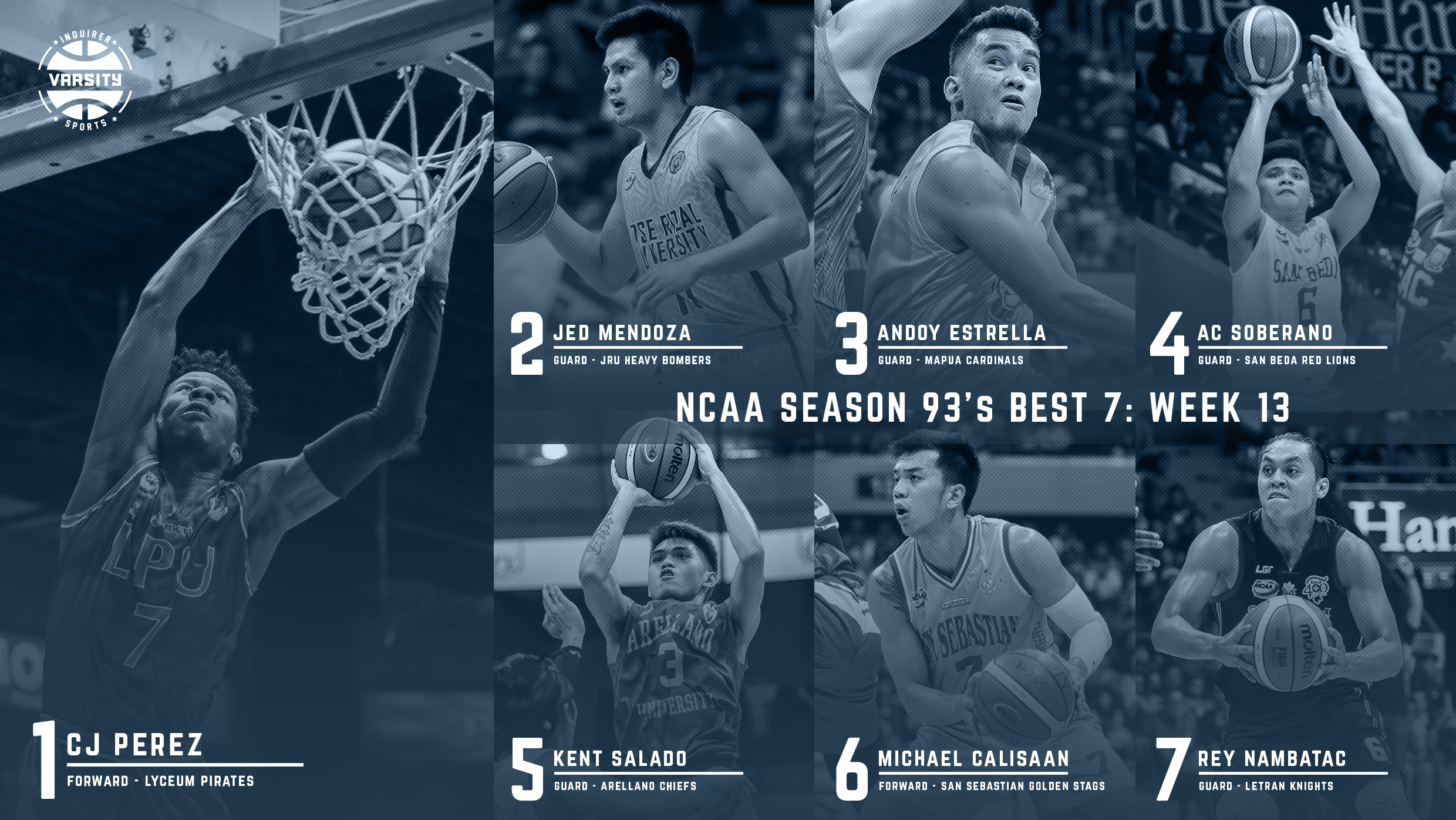 Finally, we get some sense of clarity two weeks away from the end of the eliminations.
Lyceum and San Beda have already punched their tickets to the playoffs and JRU seems to be following suit after moving a win away from nabbing the third spot.
Three more teams are duking it out for the last Final Four spot, making every game for Letran, San Sebastian, and Arellano do-or-die duels.
Individually, players are also doing last-ditch efforts on not just helping their respective teams progress, but also put themselves in the conversation for the end of season awards.
But as for this past three game days, here are the week's best performers.
(1) CJ Perez – F, Lyceum Pirates
24 points, 3 rebounds, 3 assists, 3 steals
Last Week: 1
CJ Perez continues to prove that he is one of the best, if not the best collegiate player in the country today.
For the second straight week, and fourth time overall, the energetic Lyceum forward tops this week's rankings.
Though the Pirates are facing what could be their toughest stretch yet, Perez is still keeping his numbers up as he leads his team's bid to sweep the elimination round.
(2) Jed Mendoza – G, JRU Heavy Bombers
16.5 points (4/10 3PT), 5.0 rebounds, 3.0 assists
Last Week: N/A
Churning out consistent numbers in JRU's Final Four drive, Jed Mendoza takes the cake in the team's 2-0 week.
The playmaker's poise, coupled with his stupendous sniping from downtown was really a big shot in the arm for the Heavy Bombers as they move a win away from clinching a seat in the Final Four.
Mendoza has shown that he can be the perfect compliment to Tey Teodoro all season long, but his biggest test will be in its next two games as JRU seeks to formalize its entry to the postseason.
(3) Andoy Estrella – G, Mapua Cardinals
22 points (2-4 3PT), 4 rebounds, 4 assists, 1 steal
Last Week: N/A
Hope may be lost, but that won't stop Andoy Estrella from giving Mapua its first winning streak of the season.
The senior guard was clutch once again as he lifted the Cardinals to a gutsy 76-71 win over Perpetual on Thursday.
Mapua may already be out of the running for the Final Four, but that doesn't mean that Estrella couldn't get the graceful exit he's pining for.
(4) AC Soberano – G, San Beda Red Lions
13 points (7-12 3PT), 2.5 rebounds
Last Week: N/A
Another sharp-shooter enters this week's list as AC Soberano unfurled a pair of standout outings in a 2-0 week for San Beda.
Already considered as one of the deadliest snipers in the amateurs, the stocky guard showed how lethal he could be as he fired 5-of-7 threes to pour in 17 points in the Red Lions' 88-51 rout of EAC.
That's exactly the performance coach Boyet Fernandez was looking for as San Beda gears towards its final elimination game against league-leader Lyceum.
(5) Kent Salado – G, Arellano Chiefs
16 points, 11 assists, 1 rebound, 1 steal, 1 block
Last Week: N/A
Kent Salado just brought Arellano out of the depths of elimination, doing it all in the team's 95-65 beatdown of College of St. Benilde.
Fighting for survival, the speedy playmaker's double-double night against the Blazers kept the Chiefs' flailing hopes alive as they seek to make a late rally to the Final Four.
But the job won't be easy, as Arellano will have no other choice but to win its next games, starting on Tuesday against San Sebastian.
(6) Michael Calisaan – F, San Sebastian Golden Stags
15 points, 13 rebounds, 1 block
Last Week: N/A
Another solid showing went down the drain for Michael Calisaan as San Sebastian suffered another loss to drop to 7-8.
It's not for the lack of effort, though, as the Golden Stags lost a heartbreaking 60-58 thriller to JRU on Friday.
With three games left in its schedule, San Sebastian should have the heightened sense of urgency in the coming weeks if they want to advance to the big dance.
(7) Rey Nambatac – G, Letran Knights
12 points, 15 rebounds, 1 assist, 1 steal, 1 block
Last Week: N/A
Also on the losing end this week was Rey Nambatac.
The senior guard tried his hardest to help Letran dent Lyceum's armor, but in the end, the Pirates were just too much as the Knights fell, 81-69.
Though defeated, Letran's showing was respectable to say the least, with Nambatac being the engine that keeps the team going.
But the 23-year-old vowed to not just churn out solid numbers, but also deliver victories, especially with games against San Beda and St. Benilde next in the Knights' schedule.
For the complete collegiate sports coverage including scores, schedules and stories, visit Inquirer Varsity.
Subscribe to INQUIRER PLUS to get access to The Philippine Daily Inquirer & other 70+ titles, share up to 5 gadgets, listen to the news, download as early as 4am & share articles on social media. Call 896 6000.