Ateneo's Kouame owes improvement to 'second coach' Go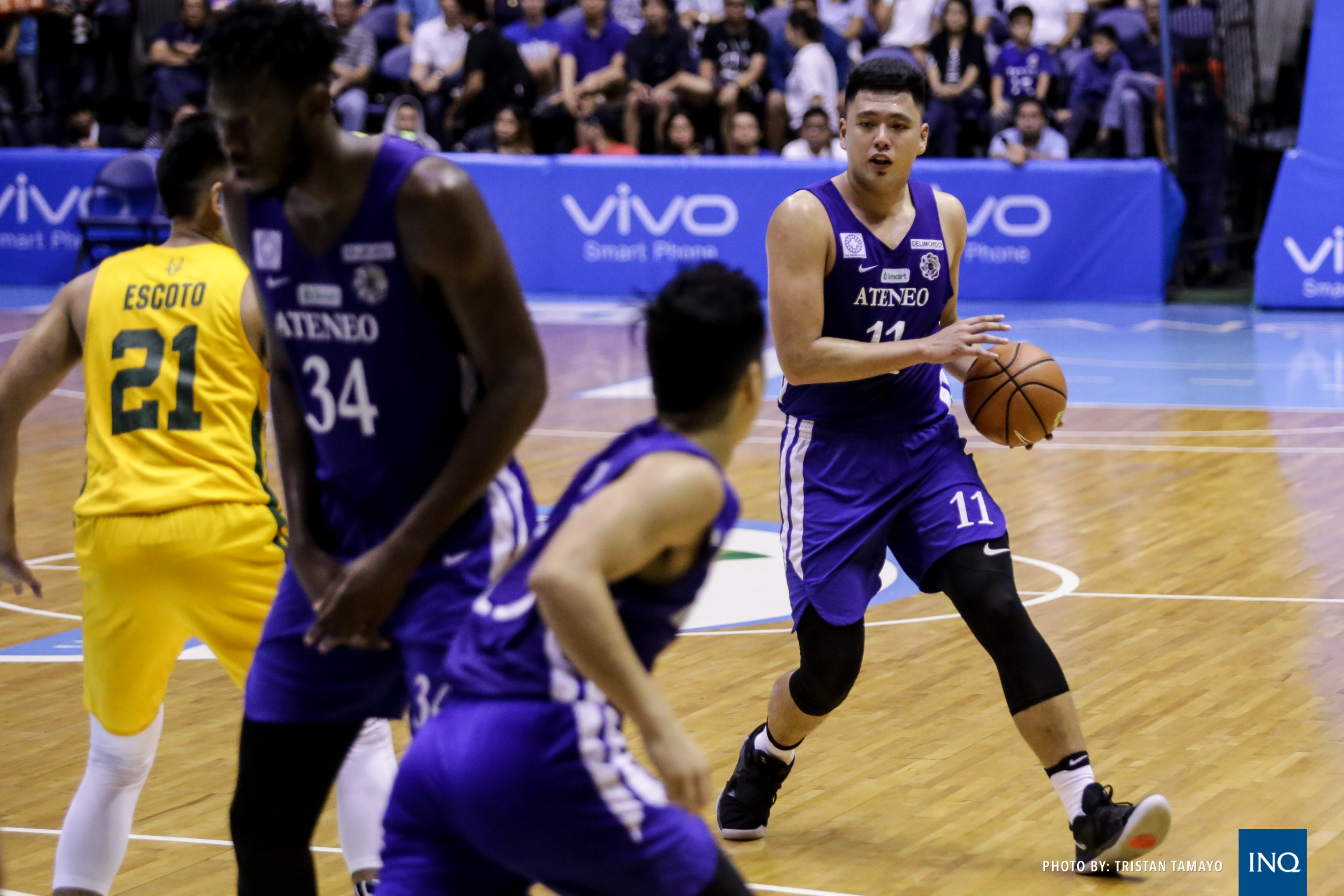 The absence of Thirdy Ravena and twins Matt and Mike Nieto was, of course, a troublesome affair for Ateneo right before its matchup against Far Eastern University in the UAAP Season 81 men's basketball tournament.
Ateneo's trio did average a combined 24.6 points and 13.2 rebounds per game.
Luckily for the defending champion, there was big man Angelo Kouame, who picked up the slack and put up a ridiculous 33-point, 27-rebound double-double to lead the Blue Eagles to an 82-62 victory over the Tamaraws.
Kouame, who's in his first season in the UAAP, said he knew he had to step up in the absence of Ravena, who's serving a one-game suspension, and the Nieto twins who are sidelined with dengue.
And although he looked like a one-man wrecking crew, Kouame credited backup center Isaac Go for helping him become the player he is.
"Right now we're missing a lot of players, they [Ravena and the Nieto twins] kept motivating us," said Kouame Saturday at Smart Araneta Coliseum. "Isaac's helped me in everything, off the court and on the court, he's my second coach."
Go, who's in his fourth year with the Blue Eagles, was once the young buck taking in the guidance of former captain Vince Tolentino and GBoy Babilonia but he's now the one looking for his younger teammates.
"We really help him to get better," said Go. "But he's the one getting those extra shots and you have to give him credit for that and I haven't done anything much to 'mentor' him."
As for Kouame, he credits Go for helping him in his continued improvement in the UAAP.
"He's my second coach," said Kouame.
Go added that Kouame's persistence to better himself has translated into the whole team atmosphere and it's the 6-foot-10 center's eagerness that helped the Blue Eagles get into the position they're in and that is the top of the standings with a 7-2 record.
"We have competitive practices, he pushes us to be better at practice, and when you go up against a guy like Ange he makes everyone better, work harder and that's because we have to complement what he's doing," said Go.