UAAP Season 81 Starting 5: Week 10
(The Inquirer Sports' Starting 5 weekly ranking is based on the players' individual numbers and their respective team's outcomes during the competition week.)
It's the year of the Maroon.
The Final Four is almost complete with the lone exception of the fourth spot that Far Eastern University and De La Salle are still gunning for through a playoff game on Wednesday.
Those two teams, however, aren't the story of Week 10 as this one belongs to University of the Philippines that clinched its first Final Four spot in 21 years.
For a little bit of context, Fidel V. Ramos was still the country's president when the Fighting Maroons reached the semifinals and the Metro Rail Transport System wasn't even operational at that point.
Anyway, here are the players that gave this week a little bit of crazy.
Frontcourt
Bright Akhuetie (University of the Philippines, center)
It has been a fruitful first year for Bright Akhuetie in the UAAP.
After wreaking havoc in the NCAA before transferring to UP, Akhuetie made himself known as one of the most dominant interior presences in the league and is now the frontrunner for the MVP trophy.
Akhuetie capped off his stellar eliminations campaign against De La Salle with 16 points, on 7-of-12 shooting, and 20 rebounds in the Fighting Maroons' 97-81 Final-Four clinching win.
Troy Rike (National University, center)
Troy Rike entered the league with a pretty decent hype machine considering he was included into the Gilas program after his stay at Wake Forest.
His time with National University, however, didn't live up to the hoopla that surrounded him before he arrived in the Philippines.
Trike averaged just 5.5 points and 4.9 rebounds prior to the Bulldogs' final game of the season against University of the East, and the 6-foot-7 big man did acknowledge that putting up numbers wasn't his cup of tea.
Though he's happily contented from being a role player, Rike took center stage in his final UAAP game when he put up 17 points and 13 rebounds, his only double-double, in NU's 79-71 win.
Alvin Pasaol (University of the East, power forward)
Arguably the most PBA-ready player in the UAAP, Alvin Pasaol made sure his final game of the season was a memorable one.
Pasaol still has two years of collegiate eligibility but the PBA Draft loomed above his name for much of Season 81.
Still, the burly power forward put on a show of force in what could be his last collegiate game when he went around and put up 20 points, 14 rebounds, four steals, and one block in UE's 79-71 loss to NU.
UE may have ended the season at 1-13 but Pasaol was the only player to average a 20-point, 10-rebound line in the whole league.
Backcourt
Juan Gomez De Liaño (University of the Philippines, guard)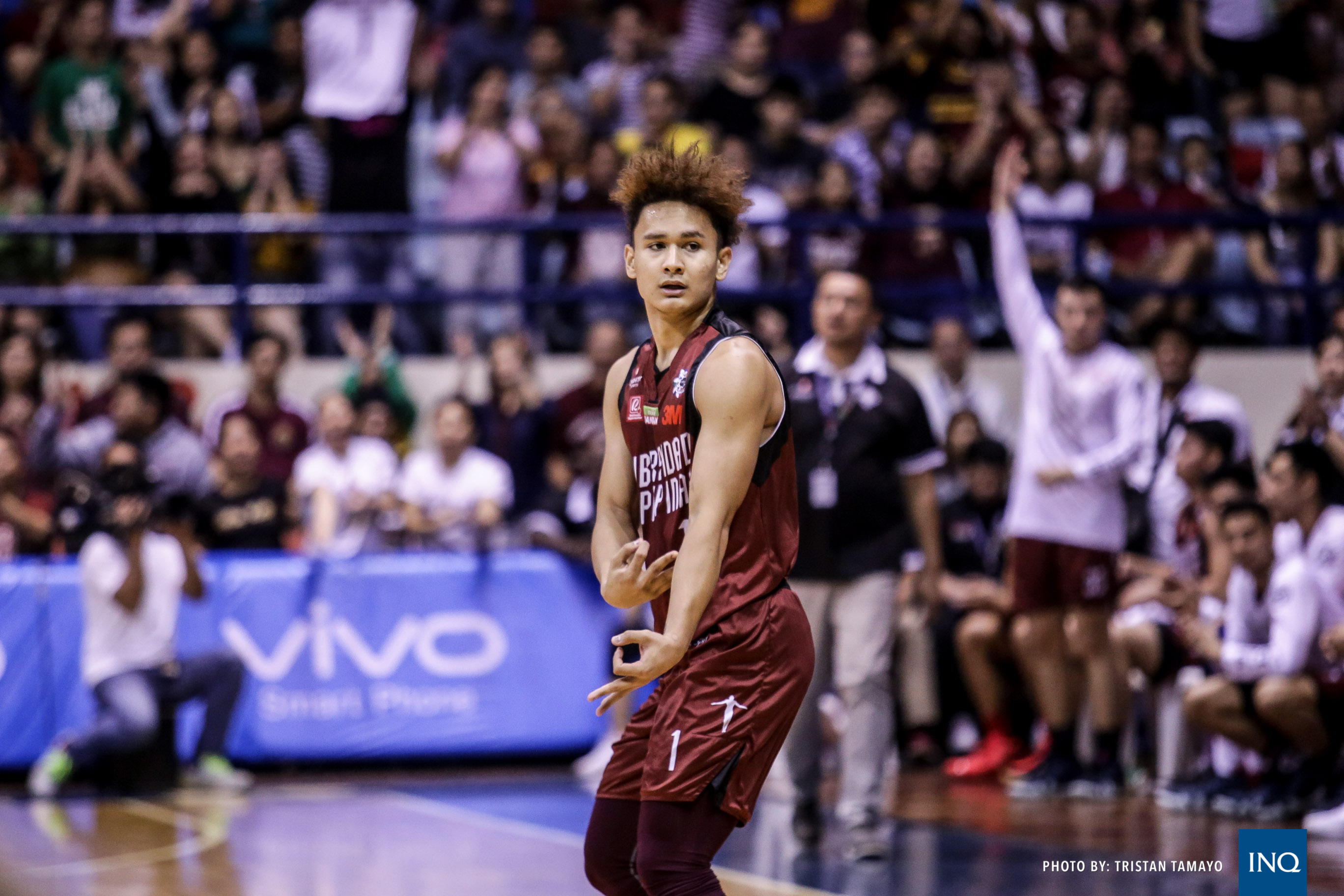 The dreaded Sophomore Slump might've missed Season 80's top rookie Juan Gomez De Liaño in the UAAP Season 81 men's basketball tournament.
Gomez De Liaño did tally the first triple-double in league history in more than a decade and his stat sheet-stuffing ways were what defined his second season with the Fighting Maroons.
The former Rookie of the Year usually hovered around the 15-5-5 area but he veered away from those numbers in the Fighting Maroons' win over the Green Archers.
Gomez De Liaño got aggressive against the La Salle defense when he put up 27 points, on 11-of-11 shooting from the free throw line, with three rebounds, and four assists en route to winning his first Chooks-to-Go Collegiate Press Corps UAAP Player of the Week plum.
Wendell Comboy (Far Eastern University, guard)
Consistency and efficiency have been Wendell Comboy's preferred route in the UAAP this season.
He wasn't the one to put up gaudy numbers every game but he does a good job of doing his role well.
And Comboy turned out one of the more efficient games this season when FEU blasted Adamson University 82-56 on Sunday.
Comboy played squarely 15 minutes and put up 11 points on 4-of-5 shooting while pulling down four rebounds and dishing out two assists.
Honorable mentions
Javi Gomez De Liaño (University of the Philippines, forward)
Javi Gomez De Liaño's time with UP hasn't reached stellar heights since his rookie year wasn't that too impressive and practically had to share the limelight with his younger and flashier younger brother Juan.
Nevertheless, Javi's performance in Week 10 was worthy of note.
He isn't as loud as Juan but Javi can still put up numbers when the need arises.
Javi had one of his best games of the season when he finished with 19 points on 7-of-11 shooting against the Green Archers and his scoring for that game was more than double of his 7.7 points-per-game average.
Angelo Kouame (Ateneo de Manila University, center)
There wasn't much to say about Angelo Kouame's week other than he's been one of the most hardworking big men in the UAAP.
There's no doubt that Kouame has been the big man with the most hops and spring in his step and he showcased his athleticism once more when Ateneo lambasted University of Santo Tomas, 102-62, in its final elimination game of the season.
And Kouame was there to bring the pain in the middle.
Playing for just 13 minutes, Kouame was able to put up 22 points, pull down 10 rebounds, and block three shots.
Subscribe to INQUIRER PLUS to get access to The Philippine Daily Inquirer & other 70+ titles, share up to 5 gadgets, listen to the news, download as early as 4am & share articles on social media. Call 896 6000.