Chris Ross finds inner fire to light up scoreboard for Beermen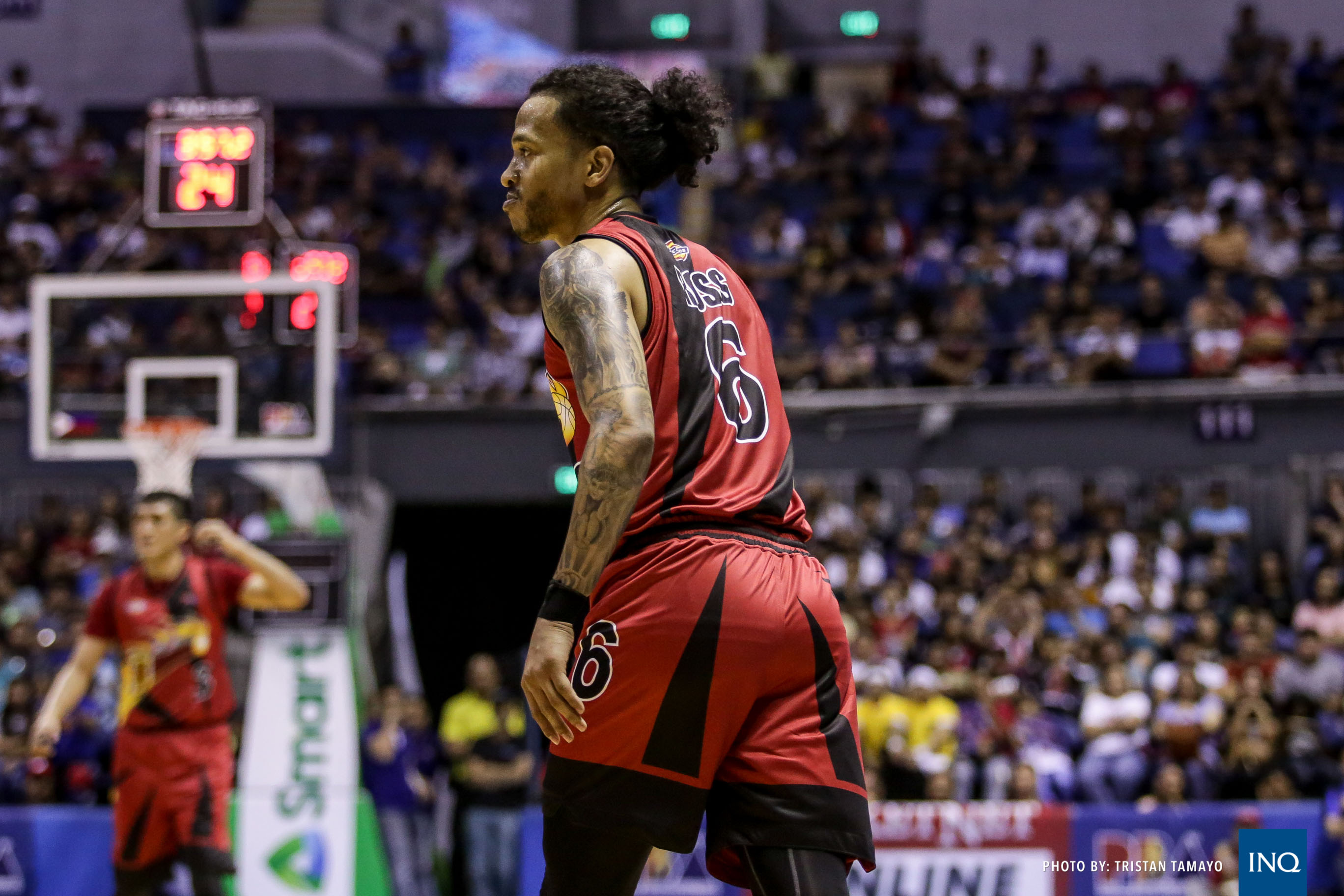 MANILA, Philippines—Looking flat out devastated when he left Cuneta Astrodome following their opening game against Columbian, Chris Ross had this fire in his eyes when he took on crowd darlings Barangay Ginebra.
That couldn't be more evident when his sights aimed for the bucket in the third period of the game. Ross, only five points in the first two frames, waxed hot for 12 more that quarter to help the Beermen erect a comfortable lead heading into the stretch.
"I knew I had to be a little more aggressive because Alex and Terrence were out," Ross told the press after San Miguel's 99-91 victory over Ginebra in Sunday's nightcap.
"I just wanted to get going offensively and make plays for my team, so luckily my team was giving me the confidence to keep going, and I just kept going," he said.
Ross ended the game with 22 points—only second to Christian Standhardinger's 26—to go with eight assists and six rebounds.
The 33-year-old playmaker credits his prolific performance to a long break.
"I went [back] to the States," Ross said. "It was the longest off-season I've had in a while, so I got to get back to my old high school and just get a lot of shots in."
Ross made six pointers and figured as the spearhead of that Beermen charge in the third quarter which widened the gap by as many as 23 points.
"Coming into the game, it was the trust they gave me," Ross said. But he was also quick to had that he had help—in the form of Von Pessumal's equally prolific marksmanship and Marcio Lassiter's clutch basket.
"Those guys are big time players. Von really had a good preseason … He came in a little bit stronger, gained a little more weight. He's really been performing well for us in the tune-ups. And, you guys know what Marcio can do. So it was a fact of us kinda just waking up after that first game, coming out and playing well," he said.
"We got it from everybody," Ross added.
Ross' words of optimism, though, were also adorned with caution: That the Beermen are far from perfect.
"This thing's not going to be easy," he said. "it's going to take some time especially integrating Terrence (Romeo), and Christian and Paul (Zamar). And coach is giving Von more minutes, [along with] Kelly Nabong."
And as much as their offense was a big factor in the result, Ross pointed that their effort on the defensive end was just as crucial.
"Our defense was really good today, and we know we're going to get back to that if we want win games," he said.
Subscribe to INQUIRER PLUS to get access to The Philippine Daily Inquirer & other 70+ titles, share up to 5 gadgets, listen to the news, download as early as 4am & share articles on social media. Call 896 6000.