Greg Louganis is an Olympic icon, perhaps one of the greatest divers of all time. He is HIV positive, too. Between both aspects of his celebrity, there are thousands of stories to tell.
But Louganis loves to talk about living.
"It's been an interesting journey," said the four-time Olympic gold medalist in diving, adding "just dealing with a lot in life on life's terms, changes, how to reinvent yourself and alter your goals."
Louganis is also popular for the dive seen around the world—twice. In the 1998 Seoul Olympics, he hit his head on the diving board opening a gash and spilling blood as he hit the pool.
"Generally if you're diagnosed with HIV, then you have two years life expectancy. So I was 28, I didn't think I'd see 30. And now I'm pushing 60."
He went on to win the gold, but years later, when he announced that he was positive with HIV, the virus that causes AIDS, scenes of that dive were replayed over and over with focus on the blood that spilled into the pool.
Those scenes are a distant memory now. But he still clearly remembers the dark days when he was first diagnosed with the virus in 1988.
"Generally if you're diagnosed with HIV, then you have two years life expectancy. So I was 28, I didn't think I'd see 30," he told the Inquirer. "And now I'm pushing 60."
Louganis isn't just surviving. He's living. He tours the world's most picturesque places as director of the Reds Bull Cliff Diving World Series, and his arrival in the country couldn't have come at a better time.
In the first two months of 2019 alone, there has been a rise in HIV cases in the country. And Louganis is one of the more popular HIV activists today.
His work in the tournament here allowed him to spread the message he's been very adamant about.
"I know that the HIV community has taken an upswing in a lot of various countries, Philippines included," he said. "The most important thing is to get tested. Every person. We all have an HIV status. It's either positive or negative. So it's better to know your HIV status so you can get early treatment."
Louganis had himself tested by accident. He had an ear infection in 1988 that he wanted checked just before the US Olympic team trials.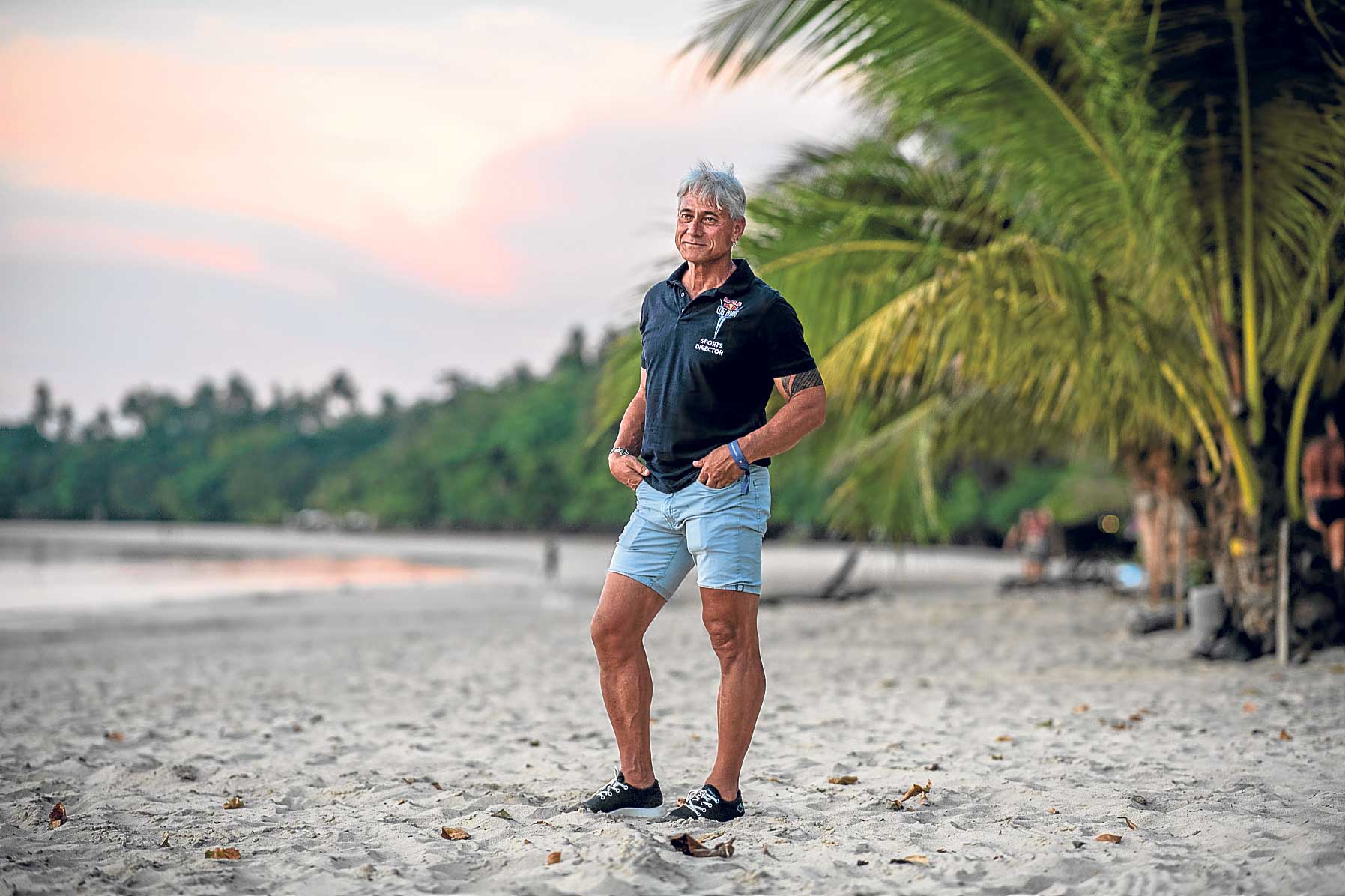 "So I went to the doctor and I had my ear looked at, and he was treating me. [And I thought] 'you know what, I wanna do an HIV test. Just to make sure I am healthy.'"
The stigma of being HIV positive still lives today. But before?
"I've been diagnosed HIV positive, then I was training in Florida, my home's in California [and] my thought was I was gonna pack my bags, move back to California, lock myself in my house and wait to die. Because that's what we thought of HIV at that time."
Louganis doesn't want people to think that way. And he's been around the world educating people about HIV, about AIDS, about getting tested and about living with the disease.
"It's important for me to reach out to a lot of the kids because they're scared and they don't know what to expect. The medications, you can read all the potential side effects on a bottle. But living is a totally different thing," he said.
And he stresses one thing.
"[HIV is] not the death sentence it used to be," he said.
Louganis didn't used to think that way. In fact, he was so sure he was going to die that in 1993, when he was 33, he decided to throw a "final birthday party" with his friends and family.
"So when I was in my 40s, I realized 'Oh my God, I'm gonna live.' And then I thought 'Oh my God, I gotta get a job.' I gotta support myself," he said.
Nowadays Louganis does yoga and bikes and hikes with his dogs to stay fit. He still dives with old friends ("No complicated dives," he said). Medicines help keep him healthy, as does a wholistic approach that incorporates Eastern and Western treatments.
Past his death date, carrying a virus that makes him painfully aware of his mortality and undergoing a brutal medication regimen, Greg Louganis continues to dive into the joys of living.