LIVE UPDATES: Hangzhou Asian Games September 25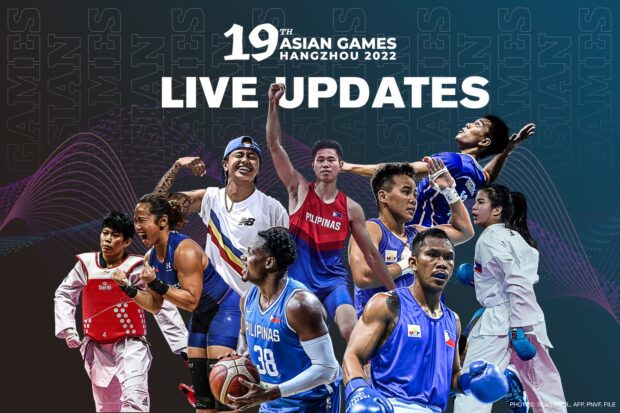 The competition continues in the Hangzhou Asian Games 2022 in 2023 on Monday, September 25 in Hangzhou, China.
The Philippines has 396 athletes from 40 sports in this year's Asian Games.
Some of those seeing action for Team Philippines on Monday are Tokyo Olympian Jayson Valdez in shooting, fellow Tokyo campaigner Kurt Barbosa in taekwondo, rowers Cris Nievares and Joanie Delgaco in the sculls final, Filipinos swimmers led by Kayla Sanchez, and tennis star Alex Eala in women's singles.
The Filipinas couldn't sustain a dream start orchestrated by Sarina Bolden after being handed a 5- 1 beating by South Korea in the women's football competitions of the Hangzhou Asian Games on Monday at Wenzhou Sports Center Stadium.
Bolden's 24th international goal that came eight minutes into the match proved to be the only bright spot as South Korea responded heavily, relegating the Philippines to a do-or-die affair for a possible slot in the quarterfinals.
Kayla Sanchez checked in sixth in the women's 50m backstroke finals on Monday in the 19th Asian Games at the Hangzhou Olympic Sports Centre Aquatic Sports Arena.
But the 22-year-old transferee from Canada isn't losing hope, confident that she could grab a medal in the pool over the next couple of days after clocking 28.66 seconds in the event.
The Philippine women's volleyball team's stint at the
19th Asian Games
ended after Dij Rodriguez and Gen Eslapor yielded to Japan's Sayaka Mizoe and Miki Ishii, 21-16, 21-11, in the beach volleyball quarterfinal on Monday at Ningbo Banbianshan Beach Volleyball Centre in Hangzhou, China.
It only took 38 minutes for the Japanese to eliminate Rodriguez and Eslapor and advance to the semifinal.
Aaron Bado's Asian Games campaign came to an abrupt end on Monday.
Bado lost to Thailand's Thitisan Panmot via referee stoppage in the men's 51kg class at Hangzhou Gymnasium.
The real test begins for Gilas Pilipinas on Tuesday when it makes its highly-anticipated debut in the 19th Asian Games.
The all-pro unit takes on a Bahrain side which Cone describes as a "challenge" against a team that has faced major adversities in the last two weeks leading to the continental showpiece.
On to the next for Alex Eala in the Asian Games
Today marks my first ever Asian games match. We on to a good start! 💪🇵🇭#AsianGames

Posted by Alex Eala on Monday, September 25, 2023
Kurt Barbosa fought with a sense of urgency throughout, but he just couldn't solve the mystery of Uzbekistan's Omonjon Otajonov to drop his opening bout in the 19th Asian Games.
Otajonov escaped with a 2-0 win in taekwondo men's -58kg round of 32 at the Lin'an Sports Culture and Exhibition Centre on Monday, surviving a fiery exchange with the Filipino Olympian in two rounds.
Jones Inso got a share of the limelight in wushu men's taijiquan-taijijian all-around on Monday, generating another bronze medal for the Philippines in the
19th Asian Games.
The 26-year-old veteran taolu specialist clinched the podium spot behind China's Gao Haonan and Hong Kong's Hui Tak Yan with a combined effort of 9.746 points in the taijiquan event and 9.470 in the taijijian discipline.
Gilas Pilipinas Men 3×3 began their Asian Games bid on the right foot on Monday in Hangzhou, China.
The quartet of Bryan Sajonia, Bismarck Lina, Justine Sanchez and JR Pasaol beat Jordan, 13-8, in Pool A.
Eumir Marcial came through with a dominant showing in his light heavyweight debut, but Irish Magno bowed out of contention as the two Olympians suffered contrasting fates at the start of the boxing competitions in the 19th Asian Games.
Marcial, 27, scored an overwhelming 5-0 victory over Dalai Gadzorig of Mongolia at the Hangzhou gymnasium to advance in the Round of 16 of the men's 80 kg class.
Skateboarders Jericho Francisco and nine-year-old Mazel Alegado bid their medal chances adieu at the 19th Asian Games here.
Alegado, the youngest competitor in these Games, ended up seventh out of eight finalists in the women's park event after churning out a best run of 52.85 points at the Qiantang Roller Sports Centre.
Kayla Sanchez breezed through the qualifying heat and progressed to the medal race of the women's 50-meter backstroke in the 19th Asian Games at the Hangzhou Olympic Sports Centre Stadium.
Sanchez, just a night's rest removed from leading the country's 4x100m freestyle relay team to a national record-shattering performance, wound up second in her heat after clocking 28.86 second behind South Korea's Lee Eunji (28.80).
Alex Eala put on a show in her Asian Games debut, pummeling Sarah Ibrahim Khan, 6-0, 6-0, in women's singles tennis on Monday at the Hangzhou Olympic Sports Centre.
Ranged against a rival nearly twice her age, the 18-year-old Filipino tennis prodigy simply overpowered the 32-year-old Khan from start to finish, highlighted by a couple of aces, to progress to the next round.
Gilas Pilipinas Women's 3×3 team pulled out of the 19th Asian Games after organizers here thumbed down its request to include two replacement players.
According to national coach Patrick Aquino, they were given no choice but to back out with only two players left—Camille Nolasco and Louna Ozar—in the lineup.
Rower Joanie Delgaco fell short in the finals of the women's single sculls in the 19th Asian Games early Monday at the Fuyang Water Sports Center.
Delgaco, the 2019 Southeast Asian Games gold medalist, reached the line fifth in the 2,000-meter race among six medal hopefuls after clocking eight minutes and 5.93 seconds.
Asian Games Medal Tally as of September 25, 9:30 a.m.
(19𝐭𝐡 𝐀𝐒𝐈𝐀𝐍 𝐆𝐀𝐌𝐄𝐒) 𝐌𝐄𝐃𝐀𝐋 𝐓𝐀𝐋𝐋𝐘 𝐀𝐒 𝐎𝐅 𝐓𝐎𝐃𝐀𝐘. 𝐒𝐄𝐏𝐓𝐄𝐌𝐁𝐄𝐑 25, 2023, 9:30 a.m.

Let's continue to cheer and pray for our athletes!! MABUHAY ANG ATLETANG PILIPINO! ❤️💛💙#POCAtAsianGames2022 #19thAsianGames #HangzhouAsianGames #TeamPhilippines pic.twitter.com/RWAlxcSK8Y

— Philippine Olympic Committee – POC (@OlympicPHI) September 25, 2023
Asian Games September 25 Gold Medal Schedule
Scottie Thompson knows his performance during the 2023 Fiba World Cup was subpar.
And while he's raring to make up for it in the 19th Asian Games, the Barangay Ginebra star is wary that such eagerness gets in the way of what truly matters.
"It was a low performance for me. But I know what my capabilities are," he told the Inquirer in Filipino. "Going into the Asian Games, my mindset is to atone. But I also have to make sure that doing so doesn't overlap with serving the team, our circle."
Patrick King Perez gave the country something to cheer for on Sunday, delivering the first podium performance for Team Philippines in the 19th Asian Games (Asiad) with a bronze finish in the men's individual poomsae here in Hangzhou, China.
"Just a few months back I was holding a gold medal in the SEA (South East Asian) Games, so it's really hard to believe that I've won a medal again in my first Asian Games,'' said Perez after his dual routine took him as far as the semifinals, where he lost to Chinese Taipei's Ma Yun Zhong.