LIVE UPDATES: Hangzhou Asian Games September 28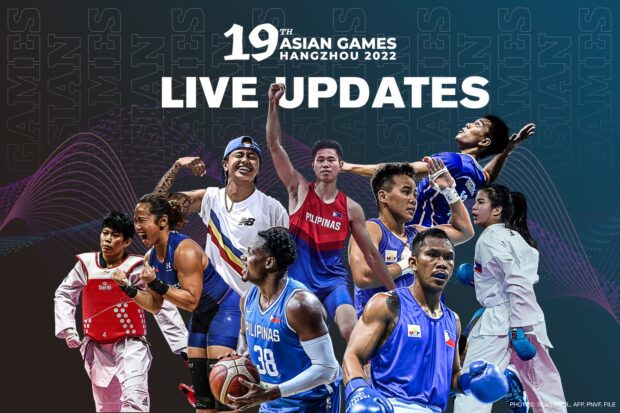 The competition continues for Team Philippines in the Hangzhou Asian Games 2022 in 2023 on Thursday, September 28 in Hangzhou, China.
The country has sent 396 athletes from 40 sports to compete in this year's continental meet.
TEAM PHILIPPINES SEPTEMBER 28 SCHEDULE OF EVENTS
Asian Games medal tally September 28 as of 10pm
Sara Eggesvik scored two goals in the second half as the Philippines defeated Myanmar, 3-0, on Thursday to secure a place in the quarterfinals of the Hangzhou Asian Games women's football competitions at Wenzhou Sports Center Stadium.
Eggesvik pulled off the brace in between the hour mark as the Filipinas dislodged fellow Fifa Women's World Cup debutant Vietnam to secure one of the three best second placers at the conclusion of the group stage.
Filipinas blank Myanmar to advance to Asian Games quarterfinals
Three North Korean shooters cried their eyes out on the podium after winning the country's first gold medal of the Asian Games in China on Thursday.
The trio saluted and gradually dissolved into floods of tears as the red, white and blue North Korean flag was hoisted in Hangzhou — in contravention of a World Anti-Doping Agency edict.
MANILA, Philippines — Hours after losing in the women's singles semifinal, Alex Eala assured herself of another bronze medal in the 19th Asian Games.
Eala and Francis Casey Alcantara took down Thailand's Luksika Kumkhum and Maximus Jones, 6-4, 6-4, to reach the mixed doubles semifinal on Thursday at Hangzhou Olympic Tennis Centre in China.
HANGZHOU, China—Kirstie Elaine Alora's farewell match didn't work in her favor after bowing out of contention in women's taekwondo at the 19th Asian Games.
The two-time Asian Games bronze medalist dropped her opening bout against Iran's Anahita Tavakoli, 0-2, in the women's +67kg round of 16 on Thursday at the Lin'an Sports and Culture Exhibition Centre.
"I feel sad because this is my last Asian Games. I am retiring after this,'' said the 33-year-old Alora, whose long career brought her to the 2016 Rio De Janeiro Olympics.
MANILA, Philippines — Facing her toughest opponent yet, Alex Eala didn't back down and pushed the World No.23 Zheng Qinwen of China to her limits before yielding a 1-6, 7-6(5), 3-6 loss in their thrilling semifinal duel in the Asian Games women's singles on Thursday at Hangzhou Olympic Tennis Centre.
The 18-year-old Filipino then settled for a bronze medal in her Asian Games debut, delivering the country's first in tennis since 2006 when Cecil Mamiit finished bronze in the men's singles and in the doubles with his partner Eric Taino.
HANGZHOU, China—Kayla Noelle Sanchez will go home without an individual medal in the 19th Asian Games after failing to make the cut in the women's 50m freestyle on Thursday.
The two-time Olympic medalist reached the finish third in her heat in 25.79 seconds at the Hangzhou Olympic Centre Aquatic Sports Arena.
The effort though wasn't enough to propel Sanchez to the evening finals.
MANILA, Philippines–Royevel Palma pitched a one-hit shutout while Cristy Joy Roa homered as the Philippine Blu Girls defeated South Korea, 5-0, on Thursday to gain a spot in the super round of the Hangzhou Asian Games women's softball competitions.
Palma flirted at a perfect game before her bid was broken in the sixth inning while Roa broke the ice in the bottom half of the fourth inning with a leadoff homer to help the Blu Girls take control of the virtual knockout match for a place in the next round.
Alex Eala settles for bronze after tough match vs higher-ranked foe
FINAL: Alex Eala ends her impressive #AsianGames women's singles campaign with a bronze medal after falling to the No.1 seed Zheng Qinwen of China in three sets, 1-6, 7-6(5), 3-6. | @LanceAgcaoilINQ pic.twitter.com/sjK8eidRaU

— INQUIRER Sports (@INQUIRERSports) September 28, 2023
PH Blu Girls advance to Asian Games softball super round
The Blu Girls finish second in Group B with a 2-1 record and will face the two best teams of Group A in the super round. | @jonasterradoINQ

— INQUIRER Sports (@INQUIRERSports) September 28, 2023
Gilas Pilipinas smoothened the gaps in its game in the third quarter and then kept it together down the stretch to escape Thailand, 87-72, for an unbeaten start in the 19th Asian Games in Hangzhou, China.
Justin Brownlee and CJ Perez were big once again for the Philippines with the beloved naturalized ace top scoring with 22 points, 15 rebounds and five assists while the latter chipped in 16 off the bench in the contest at Zhejiang University.
Asian Games men's basketball: Gilas Pilipinas vs Thailand
#GilasPilipinas keeps on missing gimmes. Japeth Aguilar finally gets one to fall. 82-70, in favor of the Filipinos with 1:23 left. #AsianGames | @sonrdINQ

— INQUIRER Sports (@INQUIRERSports) September 28, 2023
68-50 in favor of #GilasPilipinas as this contest with Thailand enters the final period. #AsianGames | @sonrdINQ

— INQUIRER Sports (@INQUIRERSports) September 28, 2023
Perez scores from point-blank range. 66-47 for the Filipinos as the Thais call for time. #GilasPilipinas have broken this game wide open. #AsianGames | @sonrdINQ

— INQUIRER Sports (@INQUIRERSports) September 28, 2023
CJ Perez converts on the break, gives the #GilasPilipinas its biggest lead of the game, 53-43, after trailing Thailand by as many as 10 points.

Perez now has 10 points—again as a spark off the bench. #AsianGames | @sonrdINQ

— INQUIRER Sports (@INQUIRERSports) September 28, 2023
The Philippine Blu Girls will have to win in order to secure a spot in the Super Round after being handed a 7-0 loss by host China after five innings on Wednesday in the women's softball competitions of the Hangzhou Asian Games.
Fielding woes and silent bats coupled with the timely hitting by China at Shaoxing Baseball and Softball Center sent the Blu Girls to an even 1-1 record going into the final game of Group B against South Korea on Thursday.
HANGZHOU, CHINA—Arnel Mandal will bring home a silver medal for Team Philippines in wushu, the country's first at the Asian Games here.
The former Filipino world champion threw volume punches and aggressively clinched in a drastic bid to take down China's Jiang Haidong and yet these efforts weren't enough.
After a pair of two-minute rounds, Jiang's hand was raised by the referee in a 2-0 gold-medal triumph in the men's 56kg sanda.
JUST IN:Arnel Mandal gives Team PH 1st silver medal after losing to China's Jiang Haidong in sanda's men's 56kg finals in the Asian Games. #AsianGames | @junavINQ pic.twitter.com/HtbEmkX2DU

— INQUIRER Sports (@INQUIRERSports) September 28, 2023
HANGZHOU, China—So far, swimmer Kayla Noelle Sanchez hasn't delivered with her first four events as a National in the 19th Asian Games resulting in two individual national records and helping the women's 4X100meter (m) freestyle relay team to a new Philippine standard.
A medal in the regional meet remains conspicuously missing with the two-time Olympic medalist left with shots in one more individual race and two relay races.
Sanchez simply hasn't lived up to the hype surrounding her acquisition of Philippine citizenship last year.
HANGZHOU, China—Margielyn Didal got dethroned in the worst way in her defense of the Asian Games skateboarding gold medal Wednesday, forcing the fiery 24-year-old to focus on a bigger target: A second straight Olympics stint.
Ranked 40th in the world and still inside the top 44 that will make it to Paris next year, Didal—after finishing dead-last in the eight-strong finals field of the women's street event here—will shoot to improve on her position to assure herself of a slot. And a big chunk of doing that has a lot to do with her health.
The Philippines' path to a medal in the 19th Asian Games men's basketball tournament goes through a Thailand side reeling from a hapless thrashing in its first game.
But coach Tim Cone has been in this game long enough to know that is hardly a reason for Gilas Pilipinas to let its guard down.
"No doubt, Thailand is our 'danger game.' We simply cannot look past them to (get to) Jordan. We have to take care of business," he told the Inquirer on the eve of the Thursday duel at Zhejiang University's Zijingang Gymnasium in Hangzhou, China, that gets going at 11 a.m. (Manila time).
Subscribe to INQUIRER PLUS to get access to The Philippine Daily Inquirer & other 70+ titles, share up to 5 gadgets, listen to the news, download as early as 4am & share articles on social media. Call 896 6000.