LIVE UPDATES: Hangzhou Asian Games September 29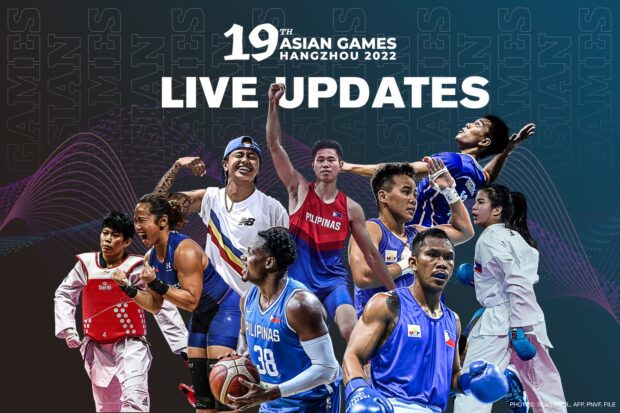 The action continues for Team Philippines in the Hangzhou Asian Games 2022 in 2023 on Friday, September 29 in Hangzhou, China.
The country has sent 396 athletes from 40 sports to compete in this year's continental meet.
As of 10 pm on Thursday, the Philippines has one silver–courtesy of wushu fighter Arnel Mandal–and five bronze medals good for 24th place in the medal tally.
TEAM PHILIPPINES SEPTEMBER 29 SCHEDULE OF EVENTS
HANGZHOU, China—Eumir Marcial saw his Olympic dream gradually taking shape after advancing to the quarterfinals in boxing at the 19th Asian Games here.
Marcial moved three steps closer to a return trip to the Olympics next year in Paris following a 5-0 conquest of Vietnam's Manh Cuong Nguyen in the men's 80kg round of 16 late Friday evening at the Hangzhou Gymnasium.
MANILA, Philippines–Gilas Pilipinas' three-game winning streak in the Asian Games 3×3 basketball showcase met its end on Friday.
The Nationals bowed to Mongolia, 21-12, finding very few answers to the enemy's pinpoint shooting at Deqing Basketball Court in Hangzhou, China.
HANGZHOU, China—Nesthy Petecio became the latest casualty in the short list of promising Filipino medalists at the 19th Asian Games.
Chinese Taipei's Lin Yu Ting delivered the cataclysmic blow by upending Petecio, 4-1, on Friday at Hangzhou Gymnasium here, showing the Filipino Olympic silver medalist the door in the women's 57kg boxing.
HANGZHOU, China—Southeast Asian champion Fernando Jose Casares found the continental field tougher after checking in 10th in men's triathlon in the 19th Asian Games on Friday.
Casares, who claimed back-to-back gold medals in the Southeast Asian Games, crossed the line in two hours and 53 seconds at the Chun'an Jieshou Sports Centre Triathlon Course, 10 minutes behind Japanese winner Kenji Nener.
Gilas Pilipinas Women peeled away from a tight first quarter, keeping Hong Kong to just 26 points in the middle quarters to cruise to a 99-63 victory in the 19th Asian Games women's basketball tournament in Hangzhou, China, on Friday.
The Philippines' veteran trio of Janine Pontejos, Afril Bernardino and Jack Danielle Animam came up big for the squad's second win that had the Nationals rising to 2-0 in the Group B play.
HANGZHOU, China– Gaming superstar 'Faker' is one of a large number of male South Korean athletes at the Hangzhou Asian Games who, if they win gold, will enjoy the added bonus of being able to skip what is normally mandatory military service.
All able-bodied South Korean men aged between 18 and 28 must serve in the military for around 1.5 to 2 years as part of the country's efforts to guard against North Korea.
Tens of thousands of young South Koreans are drafted each year to perform their duty.
HANGZHOU, China—Alex Eala and Francis Casey Alcantara closed out a great run in the 19th Asian Games with a bronze medal in tennis mixed doubles on Friday.
The Filipino aces gamely fought for one hour and 37 minutes at the sun-baked Hangzhou Olympic Sports Tennis Centre before Chinese Taipei's Liang En-shuo and Huang Tsung-hao pulled off a 7-5, 6-3 victory and progressed to the gold-medal match.
The Philippine Blu Girls dimmed their chances of advancing to the gold medal match after a 9-2 loss to Japan in six innings as the super round of the Hangzhou Asian Games women's softball competitions began Friday at Shaoxing Baseball and Softball Center.
While the game ended abruptly due to a seven-run mercy rule, the Blu Girls had their chances of at least tying things up but couldn't capitalize on opportunities to produce hits with runners in scoring position in the third and fifth innings while trailing 3-2.
HANGZHOU, China — China blew past the 150-medal mark Thursday on Day 5 of the Asian Games, more than double the number of second-place South Korea as the home nation continued its decades-long domination of the event.
The hosts were bolstered by multiple golds in a home sport on Thursday, as Chinese athletes won the men's 70-, 60- and 56-kilogram finals in Wushu martial arts, as well as the women's 60- and 52-kilogram finals.
HANGZHOU, China—A medal in the Asian Games is the only hardware lacking in Nesthy Petecio's crowded trophy room.
Petecio is determined to add the 19th Asian Games to her collection, starting off her bid against long-time rival Lin Yu Ting of Chinese Taipei on Friday at the Hangzhou Gymnasium here.
"This is going to be a tough one, but I have prepared well for this fight,'' said Petecio in Filipino of her clash with Lin in an early battle between the top contenders in women's boxing's 57kg class.
For the next few days, Arnel Mandal will hold the distinction of being the best finisher among Filipino athletes in the 19th Asian Games (Asiad) here in Hangzhou, China.
"I wasn't expecting any of this, I'm super happy,'' said the wushu warrior after his first Asian Games stint ended on Thursday with a silver medal in the men's sanda 56-kilogram (kg) division.
HANGZHOU, China—Alex Eala gave it all she had on the court Thursday before seeing a magnificent ride in the 19th Asian Games come to an end.
The 18-year-old wonder isn't crying over spilled milk after a grueling 6-1, 6-7, 6-3 loss to world No. 23 and tournament top seed Zheng Qinwen of China and instead, has immediately trained her sights on a dream stint in the Paris Olympics next year.
Subscribe to INQUIRER PLUS to get access to The Philippine Daily Inquirer & other 70+ titles, share up to 5 gadgets, listen to the news, download as early as 4am & share articles on social media. Call 896 6000.