LIVE UPDATES: Hangzhou Asian Games October 3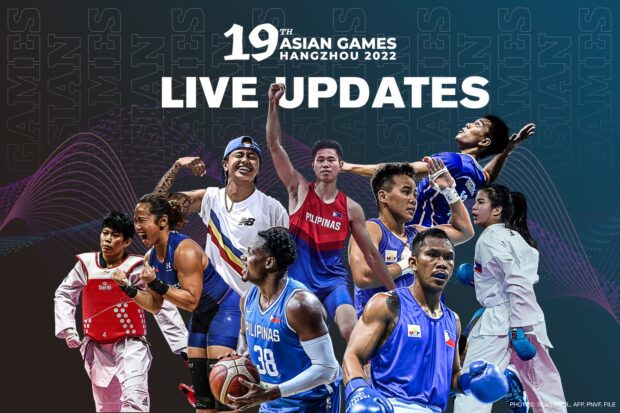 The Hangzhou Asian Games 2022 in 2023 is down to the final week of action in Hangzhou, China with more crucial matches on hand on October 3, Tuesday.
Gilas Pilipinas shoots for a semifinal berth vs Iran in men's 5×5 basketball while a win by Carlo Paalam later today in boxing guarantees himself a bronze.
TEAM PHILIPPINES OCTOBER 3 SCHEDULE OF EVENTS
Asian Games medal tally as of October 3, 10pm
HANGZHOU, China—Lauren Hoffman and Robyn Brown sprang out of the starting blocks at full throttle but weren't fast enough to seize a medal in the women's 400m hurdles final in the 19th Asian Games.
Hoffman crossed the line fifth in 57.21 seconds and Brown checked in sixth (57.55) in the medal race won by Bahrain's Oluwakemi Mujidat Adekoya in record-breaking fashion at the Hangzhou Olympic Sports Centre Stadium on Tuesday night.
HANGZHOU, China—World champion Abdumalik Khalokov of Uzbekistan possessed the length and dexterity Carlo Paalam found too challenging to handle.
Exploiting his height advantage to the hilt, Khalokov showed Paalam the door after prevailing, 5-0, in the 57kg quarterfinals of men's boxing at the 19th Asian Games here.
With the stinging defeat, the Olympic bid of Paalam next year in Paris came to a shattering end in these Games.
SHAOXING, China — Taiwan's baseball team took the field Tuesday sporting caps and jerseys not with "T" for Taiwan, but "CT," for Chinese Taipei.
China claims the democratic self-governing island as its own, and a decades-old agreement between Taipei and Beijing means that Taiwanese teams can only compete internationally if they don't use the name – or flag – of Taiwan.
Opposing them on the new field in Shaoxing was Hong Kong, representing what Beijing hopes is Taiwan's future – a team playing under its own regional flag, with its own athletes, but still very much a part of China.
When Shanti Pereira sprinted to Singapore's first athletics Asian Games gold in 49 years no one was prouder than her parents watching from the stands in Hangzhou.
Pereira draped herself in the Singapore flag after her 200m triumph and ran towards mum, dad and boyfriend Tan Zong Yang, a former athlete, in the crowd.
The 27-year-old Pereira quit her job as a copywriter this year to become a full-time athlete, a leap of faith that has clearly paid off.
Singapore's Pereira Veronica Shanti, Women's 200m event gold medalist at the 19th Asian Games Hangzhou, shed tears of joy and shared her feelings in the mix zone interview after winning gold.#Hangzhou #AsianGames #Athletics #HangzhouAsianGames #AsianGames2023 @WorldAthletics pic.twitter.com/MOlWiJ0ffM

— 19th Asian Games Hangzhou 2022 Official (@19thAGofficial) October 3, 2023
HANGZHOU, China—The Philippine sepak takraw squad made sure there won't be a medal shutout for the country on Tuesday in the 19th Asian Games.
Headlined by veteran striker Jason Huerte and Rheyjey Ortouste, the men's quadrant team salvaged a bronze after falling prey to Indonesia, 2-1, during their semifinal at the Jinhua Sports Centre Gymnasium.
HANGZHOU, China—Ranged against a teenage world champion, Amaya Cojuangco hit the end of the road in women's archery compound after dropping her quarterfinal match in the 19th Asian Games.
17-year-old Aditi Gopichand Swami of India stopped Cojuangco on her tracks, 149-143, on Tuesday at the Fuyang Yinhu Sports Centre Field here to advance to the semifinal where a bronze medal is already guaranteed.
HANGZHOU, China–North Korea's weightlifters once again crushed the opposition at the Hangzhou Asian Games on Monday with another world record and two more golds, triggering admiration and astonishment from some of their competitors.
The eye-catching world record on Monday came from Kim Il Gyong, 20, who lifted 111kg in the snatch on her way to gold in the women's 59kg category.
That beat the previous record of 110kg set in 2021 by Taiwan's Kuo Hsing-chun and came after two other women's world records were set by Kim's teammates on Saturday.
HANGZHOU, China— China is simply relentless in its domination of the Asian Games.
At the games five years ago in Jakarta, Indonesia, the country won 132 gold medals and 287 medals overall. This time, into Day 9 with five full days remaining, China has already broken its mark for gold medals and is very close to matching the overall total from five years ago.
MANILA, Philippines–Gilas Pilipinas averted disaster on Tuesday, holding off Iran late for an 84-83 victory in the 19th Asian Games quarterfinals in Hangzhou, China.
Justin Brownlee had 36 points for the Filipinos, who reached the continental meet's semifinal for the first time since 2002.
HANGZHOU, China—The formidable Philippine athletics men's 4x400m team wiped out a national record that stood for nearly four decades on Tuesday at the 19th Asian Games.
Speeding like a locomotive, the quartet of Umajesty Williams, Frederick Ramirez, Joyme Sequita and Miguel Carlo Del Prado topped their heat in 3:06.15 at the Hangzhou Olympic Sports Centre Stadium on their way to the medal race.
Gilas Pilipinas vs Iran (Asian Games quarterfinals)
Gilas Pilipinas with a 48-36 edge vs. Iran at the halftime break. #AsianGames

San Miguel standouts in a groove:
Brownlee already with 19
Thompson 11
Fajardo and Perez 6 each. | @sonrdINQ

— INQUIRER Sports (@INQUIRERSports) October 3, 2023
HANGZHOU, CHINA—The Olympic dream is slowly becoming real for Eumir Marcial.
All he needs is one more victory.
While that is easier said than done, what with the hard-punching Filipino punching above his weight—literally—here at the 19th Asian Games, Marcial is brimming with confidence that he can shoot for a second straight Olympic medal, perhaps a shinier one this time, in the Paris Games next year.
Gilas Pilipinas  finished off Qatar early in a game on Monday night, with its eye already on Tuesday.
The Filipinos used a 15-0 run in the first quarter and played consistently with the same zest all throughout an 80-41 rout of the Qataris in Asian Games men's basketball at Zhejiang University Gymnasium in Hangzhou, China, that was part of their preparation for the game that matters most at this stage.
The Philippines battles powerhouse Iran in the quarterfinals at 12 noon on Tuesday.
There should be adequate worry over the country's attempt to at least replicate what has been the most successful Olympic trip by Team Philippines ever in Tokyo two years ago.
Four medals, one of them the breakthrough gold.
At the ongoing Asian Games here in Hangzhou, China, two of those medalists crashed out of the podium race, one of them the breakthrough gold winner.
Subscribe to INQUIRER PLUS to get access to The Philippine Daily Inquirer & other 70+ titles, share up to 5 gadgets, listen to the news, download as early as 4am & share articles on social media. Call 896 6000.