Dan Palami: We need a miracle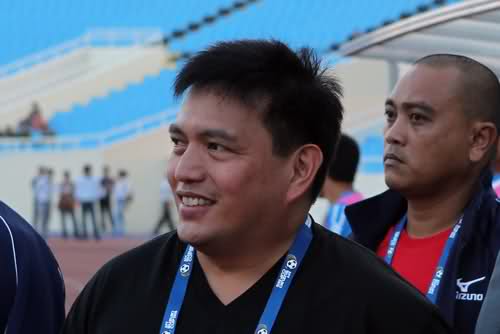 MANILA—The Philippine Azkals will not only be fighting to keep their World Cup dreams alive but also protect their impressive home record against Kuwait in the second leg of their second round World Cup Qualifying showdown at the Rizal Memorial Stadium on Thursday.
The Azkals will be looking to overhaul a 0-3 deficit against the , who looked every bit the powerhouse team they are in the first leg in Kuwait City last Saturday.
But if there's one factor going for the Azkals, it's the fact that they will be playing in the comforts of home.
The Azkals have not lost a home game since November 2006 when they bowed to Laos, 1-2, in the Asean Football Championships at the Panaad Stadium in Bacolod.
Long before they reached superstar status, the Azkals have been drawing big crowds during their home matches in Bacolod and Iloilo and team manager Dan Palami hopes it will become a factor again against their strongest opponent yet in Manila.
About 13,000 people watched the Azkals demolish Sri Lanka, 4-0, in the first round last July 3.
"We need a miracle," Palami said during the PSA Forum at the Shakey's UN Avenue in Manila.
"We haven't actually lost at home yet, this is partly because of the crowd factor. We also haven't conceded a goal for a long time."
The unbeaten and shutout streak started in the 2008 AFC Challenge Cup Qualifiers in Iloilo, where they logged two wins and a draw. The Azkals also beat Mongolia, 2-0, early this year in Panaad.
Palami hinted that the counterattacking approach against Kuwait may not change despite the return of creative midfielder Stephan Schrock and skipper Aly Borromeo.
"We're playing to win and at the same time defend," Palami also said at the forum sponsored by Shakey's, Outlast Battery, Pagcor, Smart and Accel.
Palami said that the Azkals, win or lose, can take consolation at the fact that they have already faced one of the best teams in Asia.
Subscribe to INQUIRER PLUS to get access to The Philippine Daily Inquirer & other 70+ titles, share up to 5 gadgets, listen to the news, download as early as 4am & share articles on social media. Call 896 6000.