Adamson's Manganti hits dagger against UP anew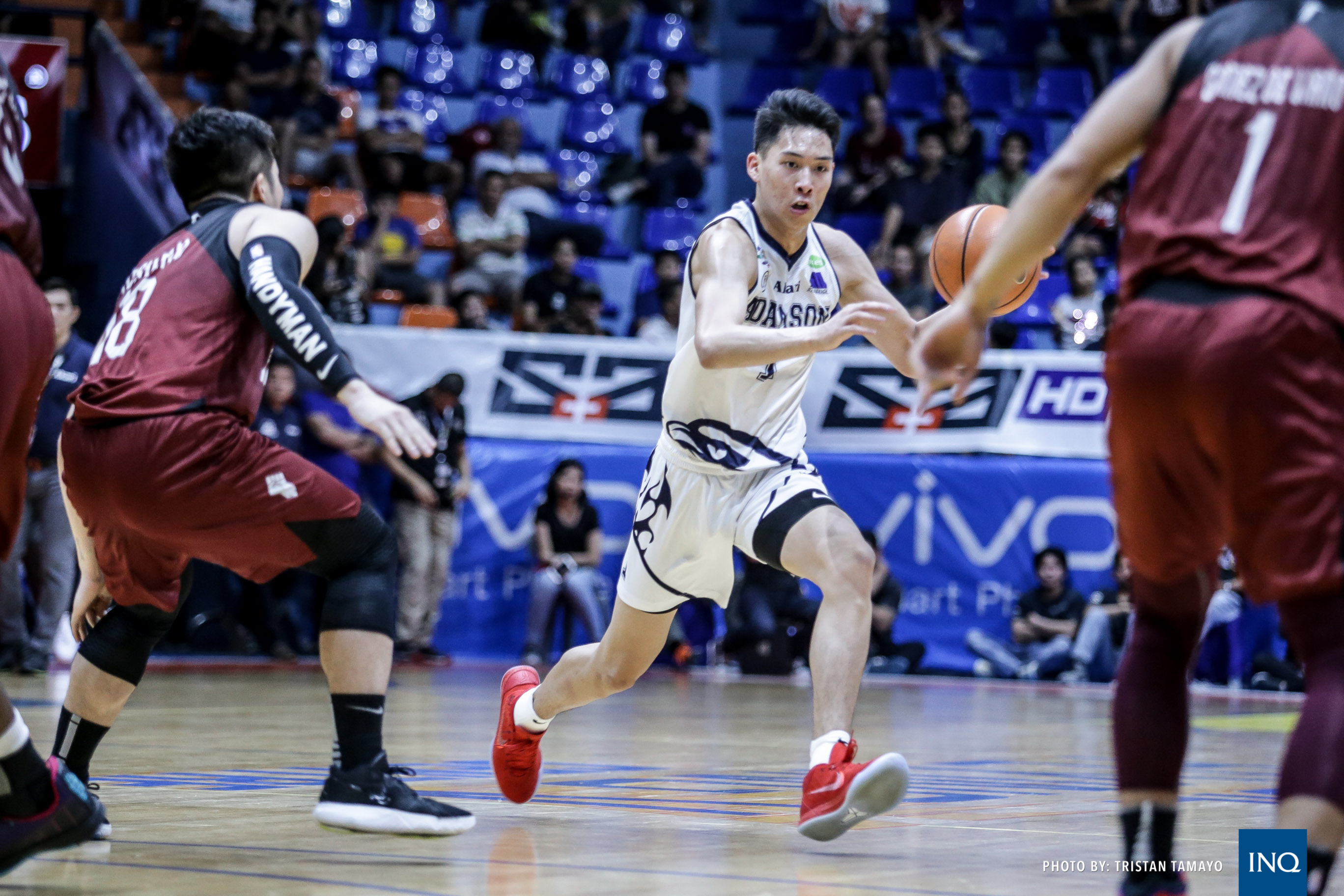 It might just be the opportune time to call Sean Manganti as the "UP Killer."
For the past three of the four games between University of the Philippines and Adamson University, Manganti was always there to not just break the hearts of the Fighting Maroons—he was there to send it to ether.
And Manganti did that once more when he drilled the dagger three right through the chest of UP in the Soaring Falcons' 80-72 win in the second round of the UAAP Season 81 men's basketball tournament.
The Fighting Maroons went on a 22-7 run that cut Adamson's lead to four, 74-70, when Manganti decided to decimate UP's spirit with a soul-crushing three that gave Adamson a 77-70 lead with 1:14 left.
"Everybody was expecting this game to go down the wire, to the last shot, and everybody's expecting me to get the game-winning shot," said Manganti Sunday at Filoil Flying V Centre in San Juan.
Manganti nailed the game-winner in Adamson's 73-71 win over UP in the first round of the Season 80 tournament and he replicated that in the Falcons' 69-68 thriller over the Maroons in the first round of Season 81.
"It's just a series of coincidences," said Manganti, who finished with 10 points and six rebounds.
What was different in this dagger and his game-winners of the past was this one had Jerrick Ahanmisi in the mix.
Manganti's previous clutch baskets against the Fighting Maroons were layups at the end of the shot clock and were primarily his own doing, this time there was Ahanmisi, who found him open in the right wing.
"It's just the connection, I went to the basket and I didn't have anything so I pulled back and saw him in the corner and I passed it to him," said Ahanmisi, who had 24 points, six rebounds, and three assists.
Another side note, Manganti was shooting just 22 percent from deep entering the game.
This led Adamson head coach Franz Pumaren to joke about Manganti's confidence.
"In short, makapal ang mukha (he's barefaced)," said Pumaren whose team improved to an 8-2 record and earned at least a playoff for a Final Four spot.
As for UP's heartbreaker, he just doesn't shy away from big shots.
"I never shy away from a shot like that and I want to take those shots," said Manganti. "I never think of percentages."
For the complete collegiate sports coverage including scores, schedules and stories, visit Inquirer Varsity.
Subscribe to INQUIRER PLUS to get access to The Philippine Daily Inquirer & other 70+ titles, share up to 5 gadgets, listen to the news, download as early as 4am & share articles on social media. Call 896 6000.