Ravena, Tolentino, Gomez De Liaño suspended; UAAP reminds players not to play rough
Key players from three teams won't be suiting up in their upcoming games in the UAAP Season 81 men's basketball tournament.
Ateneo's Thirdy Ravena, Far Eastern University's Arvin Tolentino, and University of the Philippines' Javi Gomez De Liaño were all slapped with suspensions following incidents in their team's previous matches.
Tolentino received the worst punishment of the three as got a  two-game ban for his disqualifying foul on University of Santo Tomas forward Zach Huang.
READ: Tolentino says 'no intention to hurt' Huang after 2nd straight DQ foul
He will sit out FEU's next two games against Ateneo and UP.
This wasn't Tolentino's first suspension suffered this season as he also sat out the Tamaraws' game against the Blue Eagles in the first round.
UAAP Season 81 commissioner Junel Baculi warned Tolentino that if he ever gets called with another disqualifying foul, he would be suspended for the rest of the season.
"The next time he does that, he'll be out of for the remainder of the season and those are under the rules of the UAAP," said Baculi Wednesday at Mall of Asia Arena. "I'm just basing my memo on the rules of the UAAP."
Tolentino earned his first disqualifying foul in FEU's 88-85 overtime win over Adamson University where he clotheslined Sean Manganti.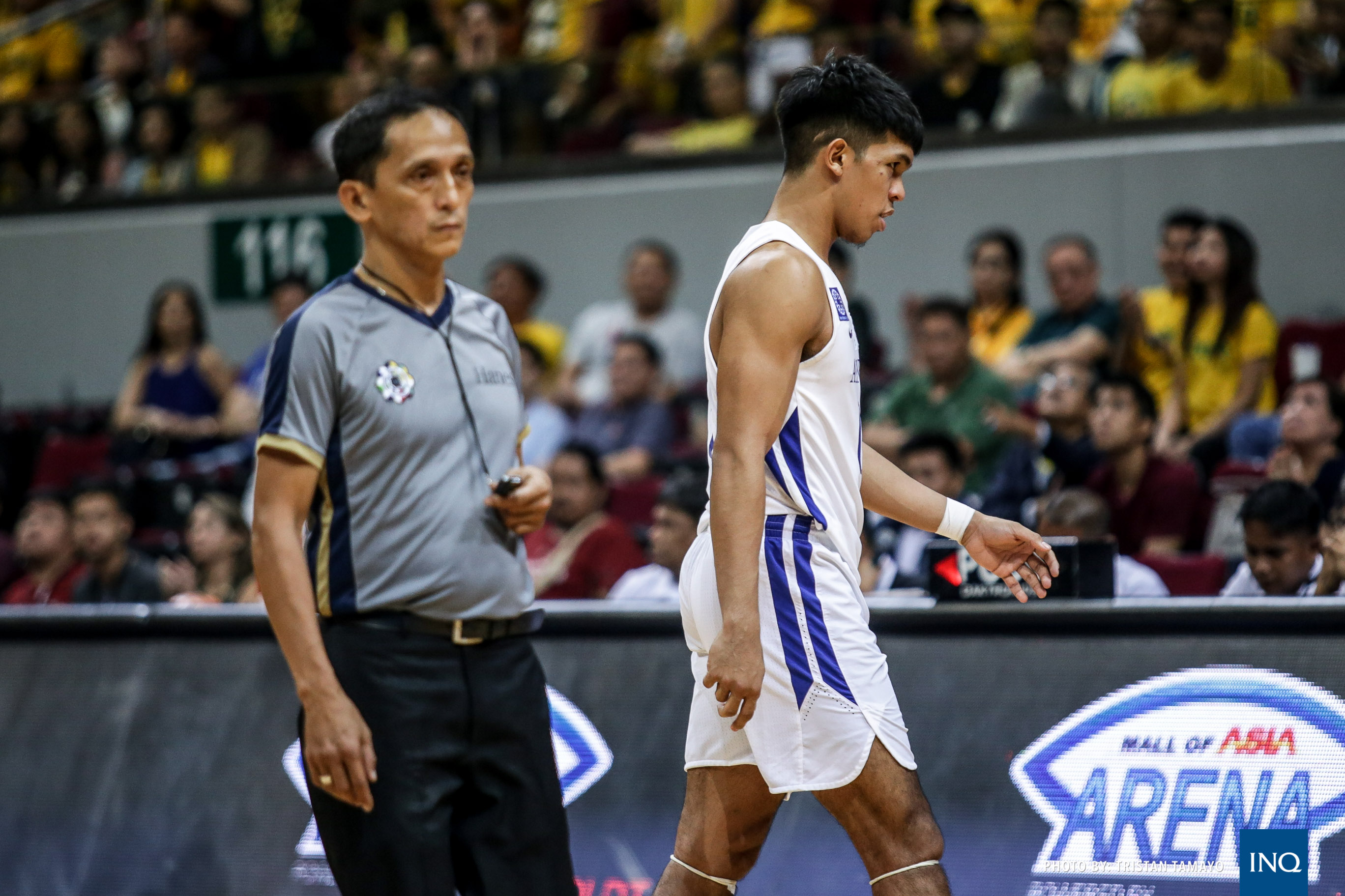 Ravena, meanwhile, is going to miss Ateneo's game against FEU after UAAP officials reviewed his foul on UP's Paul Desiderio in the Blue Eagles' 83-66 win last Sunday.
After a review of the official video, Baculi said the league had decided to upgrade the personal foul against Ravena into an unsportsmanlike foul.
READ: Ravena said he had no intention to hit Escoto: 'There was no extra motion'
The hit on Desiderio was the Ateneo forward's second unsportsmanlike foul this season after he was called with the same infraction for his action on FEU forward Richard Escoto in the Blue Eagles' 63-60 loss to the Tamaraws in the first round.
Ravena has apologized to Desiderio for the incident.
As for De Liaño, he incurred a technical foul and an unsportsmanlike foul during the Fighting Maroons' game against the Blue Eagles which merited a one-game suspension.
De Liaño will miss UP's next game against University of the East.
"I hope the coaches can police their ranks, remind their players that you can be physical but not rough," said Baculi. "They can be tough, but not rough."
Subscribe to INQUIRER PLUS to get access to The Philippine Daily Inquirer & other 70+ titles, share up to 5 gadgets, listen to the news, download as early as 4am & share articles on social media. Call 896 6000.