LIVE UPDATES: Hangzhou Asian Games September 27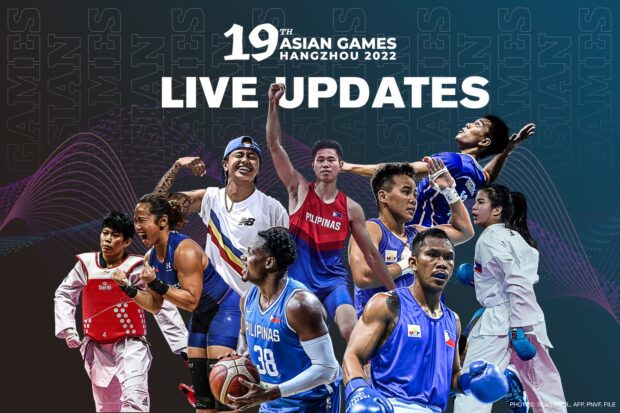 After failing to win a medal on Tuesday, the Team Philippines tries to put on a better showing in Hangzhou Asian Games 2022 in 2023 on Wednesday, September 27, in Hangzhou, China.
The Philippines has 396 athletes from 40 sports in this year's Asian Games.
TEAM PHILIPPINES SEPTEMBER 27 SCHEDULE OF EVENTS
Asian Games September 27 medal tally as of 10pm
HANGZHOU, CHINA—Sanda fighter Arnel Mandal is bound to deliver the first silver medal for Team Philippines in the 19th Asian Games after downing Kyrgyzstan's Avazkev Amanbekov, 2-0, in the semifinals of the men's 56kg on Wednesday night.
The 27-year-old Mandal's calculated takedowns got the approval of the judges while efficiently defending himself from Amanbekov's relentless kicks in the course of their two-round battle at the Xiaoshan Guali Sports Centre.
HANGZHOU, China—Mark Ashley Fajardo got clobbered by Chinese Wang Xiangyang in another early exit for Filipino boxers in the 19th Asian Games.
Egged on by a hometown crowd, Wang showed he's the better fighter in the ring, 5-0, to advance to the men's 63.5kg round of 16 at the Hangzhou Gymnasium here.
HANGZHOU, China— She's the youngest member of the nearly 900-strong delegation from China in the Asian Games, and the 13-year-old skateboarder is now going home with a gold medal.
She's also already thinking about being a force at next year's Paris Olympics.
Cui Chenxi, from Shandong province, edged out 18-year-old teammate Zeng Wenhui for the gold on Wednesday in women's street skateboarding. Miyu Ito, a 16-year-old Japanese skateboarder, took bronze.
MANILA, Philippines–Gilas Pilipinas Women made light work of a taller Kazakhstan side, 83-59, on Wednesday night for a rousing debut in the 19th Asian Games in Hangzhou, China.
The Philippines used a strong second quarter, dealing damage from inside and out while limiting Kazakhstan—which had four players standing over six feet—to just nine points at  Shaoxing Olympic Sports Centre Gymnasium.
MANILA, Philippines–Gilas Pilipinas remained perfect in the 3×3 circuit and inched closer to a quarterfinal berth on Wednesday as the men's squad carved out a 21-15 victory over Hong Kong in the 19th Asian Games in Hangzhou, China.
With the enemy breathing down their necks in the final two minutes of the contest, the Nationals got it together with a balanced attack to give themselves some breathing room, 18-12, heading into the dying moments of the clash at DQ Basketball Court.
√
Final Score: Gilas women pounces on Kazhakstan in Asian Games prelims
HANGZHOU, China—The Philippine wushu team is assured of three bronzes at the 19th Asian Games with sanda fighters Arnel Mandal (men's 56kg), Gideon Fred Padua (men's 60kg) and Clemente Tabugara (men's 65kg) figuring in the semifinals.
Wushu officials, however, are skeptical about allowing Padua to face Iran's Shoja Panahigelehkolaei in the semis.
Padua got hit by an elbow and suffered a broken nose bridge in an impressive quarterfinal win over Turkmenistan's Agajumageldi Yazymov.
Gilas stretches its unbeaten run to three games in men's 3×3
Gilas stretches its unbeaten run to three games in men's 3×3. #AsianGames pic.twitter.com/DeoxECDVsD

— INQUIRER Sports (@INQUIRERSports) September 27, 2023
HANGZHOU, China—Alex Eala stormed back from a set down and turned back Japan's Kyoka Okamura, 0-6, 7-5, 6-0, to march into the semifinals of women's tennis singles at the 19th Asian Games.
The 18-year-old fourth seed not only moved closer to the finals where a gold medal is equivalent to a ride to next year's Paris Olympic, she's likewise assured of a bronze medal in her maiden voyage in these Games.
Alex Eala advances to Asian Games tennis semifinals
𝗧𝗘𝗡𝗡𝗜𝗦: 𝗔𝗟𝗘𝗫 𝗘𝗔𝗟𝗔 𝗤𝗨𝗔𝗟𝗜𝗙𝗜𝗘𝗦 𝗙𝗢𝗥 𝗦𝗘𝗠𝗜-𝗙𝗜𝗡𝗔𝗟𝗦

After an intense 2-hour match vs Japan's Kyoka Okamura, Eala emerges victorious securing her place in the semi-finals!! 🇵🇭🎾CONGRATULATIONS! MABUHAY KA!!❤️💙💛#POCatAsianGames2022 pic.twitter.com/jPXmVpIiiC

— Philippine Olympic Committee – POC (@OlympicPHI) September 27, 2023
HANGZHOU, China — A month before the Asian Games, China released a new national map, doubling down on its claims to almost the entire South China Sea and disputed border territories with India.
A few days before the event, it flew more than 100 warplanes toward Taiwan, stepping up its regular military harassment of the self-governing democratic island that Beijing claims for its own.
HANGZHOU, China—Hobbled by a surgically-repaired left ankle, skateboarder Margielyn Didal relinquished her title in women's street after falling off her board several times in the 19th Asian Games here.
Didal, bothered by her foot which required surgery 11 months ago that sidelined the Cebuana for a long time, tallied 23.39 points in her first run and 12.84 in the next, winding up last among eight competitors.
Margielyn Didal in Asian Games women's street skate competition
Margielyn Didal fell hard on her third trick in women's street at the #AsianGames. | @junavINQ pic.twitter.com/oswcPhPt27

— INQUIRER Sports (@INQUIRERSports) September 27, 2023
Defending champion Margielyn Didal's first run in women's street at the 19th #AsianGames in Hangzhou. | @junavINQ pic.twitter.com/OfgsBAztDo

— INQUIRER Sports (@INQUIRERSports) September 27, 2023
Whatever worries national coach Tim Cone had for Gilas Pilipinas in their opening game in the 19th Asian Games in China turned out to be baseless on Tuesday.
The Philippines played with sustained brilliance and found very little resistance in its 89-61 thrashing of Bahrain at Hangzhou Olympic Sports Center Gymnasium for a rousing start in the continental showcase.
HANGZHOU, CHINA—After getting wind of the news that his weight class got ditched by Paris Olympic organizers, Carlo Paalam instantly knew the uncertainty that lay ahead.
"I cannot really tell what my chances are. I'll just try to do my best, because we don't know how the judges will score each fight,'' said Paalam in Filipino.
HANGZHOU, CHINA—Alex Eala has approached the 19th Asian Games (Asiad) here with guarded optimism with too many possible pitfalls in a tournament brimful of world-quality competitors.
With a trip to the 2024 Paris Olympics attached to winning a gold medal, the 18-year-old Filipino tennis wonder would rather just stay the course, hoping to eventually reach the summit.
After another failed bid that overshadowed sinking another national mark, Kayla Noelle Sanchez just wants everyone to keep the faith.
"I hope you believe in me because I'm having the best time being able to represent the Philippines and be a leader of this team,'' said Sanchez, minutes after finishing fifth in the women's 100-meter freestyle finals of the 19th Asian Games (Asiad) on Tuesday night that kept the country still searching for its first gold medal here.
Arnel Mandal and Gideon Fred Padua gave Team Philippines a pair of bronze medals in wushu in men's sanda. Clemente Tabugara Jr. later assured the third bronze after downing Kazakhstan's Abdusamat Ashirov in the men's 65kg in the 19th Asian Games.

READ: https://t.co/5IKjWvDnYG pic.twitter.com/KOWLZyy55U

— INQUIRER Sports (@INQUIRERSports) September 26, 2023
Subscribe to INQUIRER PLUS to get access to The Philippine Daily Inquirer & other 70+ titles, share up to 5 gadgets, listen to the news, download as early as 4am & share articles on social media. Call 896 6000.